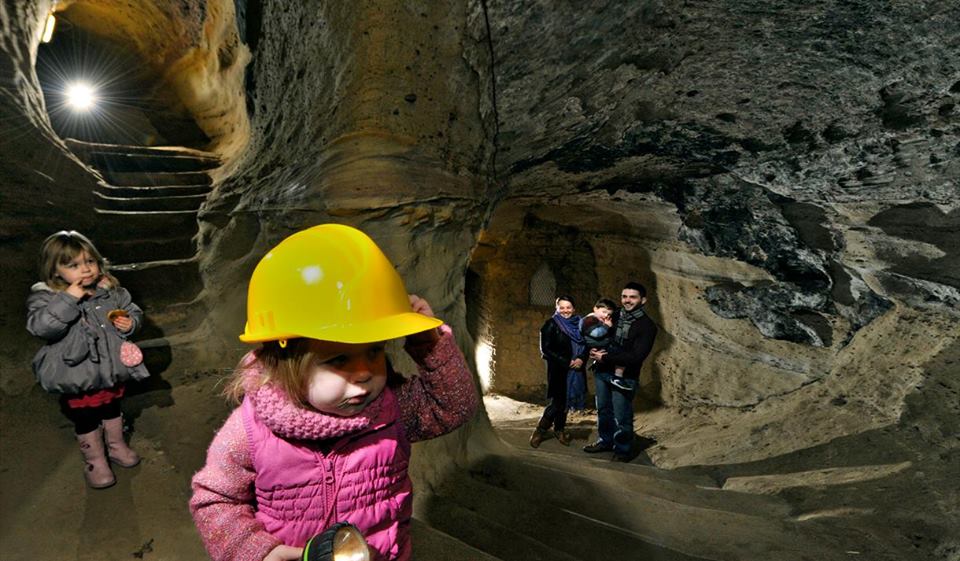 Here's our weekend events guide for 5th to 7th April 2019 for things to do in Nottinghamshire.

Want to know more? Please click below to find out what we recommend:

Friday

Friday Nights at Sneinton Market

Start off the Easter holidays with lots of fun down at Sneinton Market! There will be a different variety of mouth-watering foods, thirst quenching drinks and groovy tunes to boogie to. Fancy buying something nice to treat yourself or a loved one? Have a look at the lovely craft stalls that will be on offer! Check out some of the tenants down there and see what they're up. This event is child and animal-friendly.

Date: 5th April 2019
Time: From 5pm
Cost: Free

Sneinton Market Avenues, Nottingham

____
Friday and Saturday

Cave City: Ghosts of the Caves Tour

As part of Nottingham's annual CaveCity Festival, Nottingham's City of Caves is offering evening ghost tours at a special price of £5 . You will delve deep into the caves and discover the mysterious hidden stories of the past which lurk under the streets of Nottingham. Uncover the ghostly tales of those who lived in the caves and learn of the spirits which still reside as part of this special evening tour. Booking advised. Recommended for ages 14+

Date: 5th and 6th April 2019
Time: 5.30 pm to 7.30 pm
Cost: £5.00

Book tickets here

____


Friday to Sunday

Caves Festival - Nottingham

Pop down to the Urban Room to find information about cave tours and general access to caves and to enjoy a unique exhibition of cave photography. There are over 800 caves hidden underneath the streets of Nottingham and you are invited to find out more with a five-day festival, with loads of activities and events about this subterranean world. Please click here for a full list of events and activities.

Date: 5th to 10th April 2019
Time: Various
Cost: Various

The Urban Room, 38 Carrington Street, Nottingham
____

Saturday and Sunday

Easter Festival at White Post Farm

The extra special Easter Festival at White Post Farm is on everyday throughout Notts half-term (Saturday 6th - Monday 22nd April). From live births and sheep racing, to cuddles with newborn lambs and an Easter stamp hunt, there is so much to get stuck in to at the farm this Spring! Tickets are available to book now on their website, why not go along and join in the fun?

Date: 6th to 22nd Apr 2019
Time: 10 am to 5pm
Cost: Book online for discounted entry
____
Saturday

Children's Workshops at Broadway Cinema

The Broadway Cinema is hosting a couple of children's workshops on Saturday. At 10am, younger children can make their own Peppa Pig themed creations to take home. The workshop costs £6 or £5 if you purchase a ticket for Peppa Pig: Festival of Fun. For ages 3-6.

Older children (ages 7-12), can make their own modelling clay creatures and bring them to life, taking inspiration from the new Dumbo film at 2pm. The workshop costs £8 or £6 for members or concessions.

Date: 6th April 2019
Time: See above
Cost: See above

Bookings and further information
____
Saturday

Mini Pizza Making at Green's Windmill

The lovely folk at Green's Windmill are kicking off the Easter holidays with mini pizza baking! Bake your own delicious pizza: which toppings will you choose?

Booking is essential. To book a place for this activity please call 0115 915 6878. They are running six 30 minute sessions at 11am, 11.30am, midday, 12.30pm, 1pm & 1.30pm.

For ages 3+

Date: 6th April 2019
Time: From 11am
Cost: £5 per child
____

Saturday and Sunday

Deer Trail at Wollaton Park

Wander through Wollaton Park to find all the deer on the trail to claim a prize! Then, why not enjoy a picnic in the beautiful grounds or have some lunch in the Courtyard Cafe.

Trails are available from all shops and cafes.

Date: 6th to 22nd April 2019
Time: From 11am
Cost: £2 per trail
____

Saturday and Sunday

Lost Forest at Nottingham Contemporary

This Easter, you can help to create art inspired by nature. Expect a warm welcome and lots to keep families busy at Nottingham Contemporary. All are welcome

Date: 6th to 22nd April 2019
Time: 11am to 4pm
Cost: Free

______
Saturday and Sunday

Peacock Egg Trail at Newstead Abbey

Newstead Abbey's friendly peacock Augusta has lost all her eggs around the gardens - can you help her find them all?

Don't forget to claim your prize at the end of the trail!

£2 per trail - available to purchase on the day from the Abbey Shop and Cafe. Normal car parking charges apply.
Date: 6th to 22nd April 2019
Time: 10am to 3.30 pm
Cost £2 for each trail sheet
______

Saturday

Fine Ales and Strange Tales at The Old Salutation Inn
As Part of Nottingham's Cave Festival 2019 the Old Salutation brings you this unique venue for telling a mixture of Local and Gothic Stories all of the strange and ghostly nature. Of course the visit would not be complete if you could not take one of the fine ales on offer from the award winning cellars! For people over 14 years of age. Please wear sensible shoes, and take a jacket.
Date: 6th April 2019
Time: 8pm
Cost £10 pp

Book here
______

Sunday

Nottingham Booklovers Walk

What links Nottingham's Victoria shopping centre, with Castlegate and the Lace Market? How many writers do you know of that are associated with Nottingham? Celebrate Nottingham's status as a UNESCO City of Literature with this guided walk through the city centre. About 1 mile in distance but wide-ranging in content, from children's literature to Booker Prize winners, diarists, crime-writers and poets, including our very own Young Poet Laureate.

Meet at Nottingham Tourism Centre, 1-4 Smithy Row


Date: 7th April 2019
Time: 10.30 am
Cost £12

Book tickets here
_____
Sunday Lunch at The Tailors Arms in Wilford