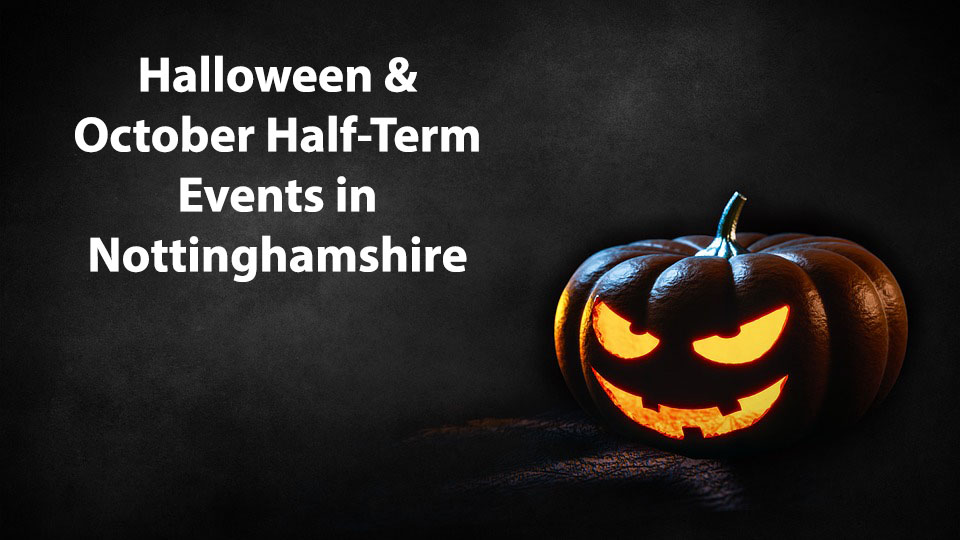 October Half-Term Events in Nottinghamshire

Half-Term in Nottinghamshire stretches across the last two weeks in October this year, with some schools having one week off and some having two. With the current restrictions in place, this means that lots of parents (including me) will be looking for family-friendly, socially distanced, safe events to keep their children amused.

Luckily, there is plenty going on across the County, so whether you fancy a bit of pumpkin picking or getting your scare on at one of the Halloween events taking place at our favourite visitor attractions and outdoor spaces, we can help with your planning.

Please take a look at our week-by-week guide. We'll be adding more events every day, so please keep checking back and follow us on Twitter for all the latest updates @things_to_do.
_________________________

BOOK NOW: 10th November 2020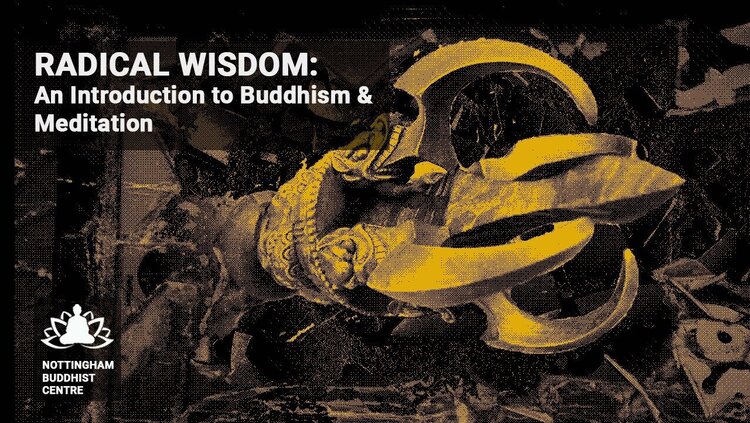 On this six-week, online course by the Nottingham Buddhist Centre, you will learn the two most important Buddhist meditation practices and try out some powerful Buddhist wisdom teachings that can change the way we see the World. The course is free but a £30 donation is suggested, in order to encourage participants to commit beyond the first week, as places are limited.

To book and to find out more, please click here or view the video below to see what to expect before booking.


Advert
____________________________________
October Half-Term Events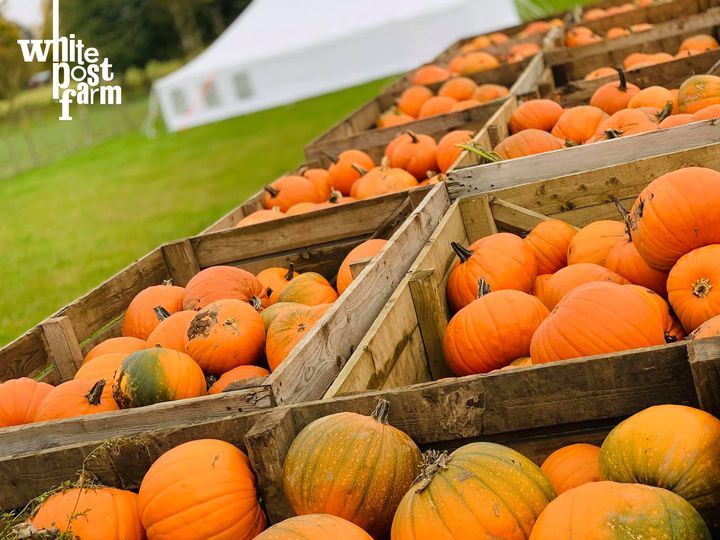 Halloween Festival
White Post Farm

Leaves changing colour, nights getting longer, winds getting cooler, Autumn is just around the corner – it can only mean one thing - the Halloween Festival at White Post Farm is back! From pumpkin patches to broomstick school, birds of prey to the new Halloween Trail, there's so much to do at the farm this Halloween.

Book now to avoid any disappointment and don't forget to wear your best fancy dress – grown ups this means you too!!'

Date: 23rd to 31st Oct 2020
Time: From 10.00 am
Cost: Visit the White Post Farm website for full prices here
_________________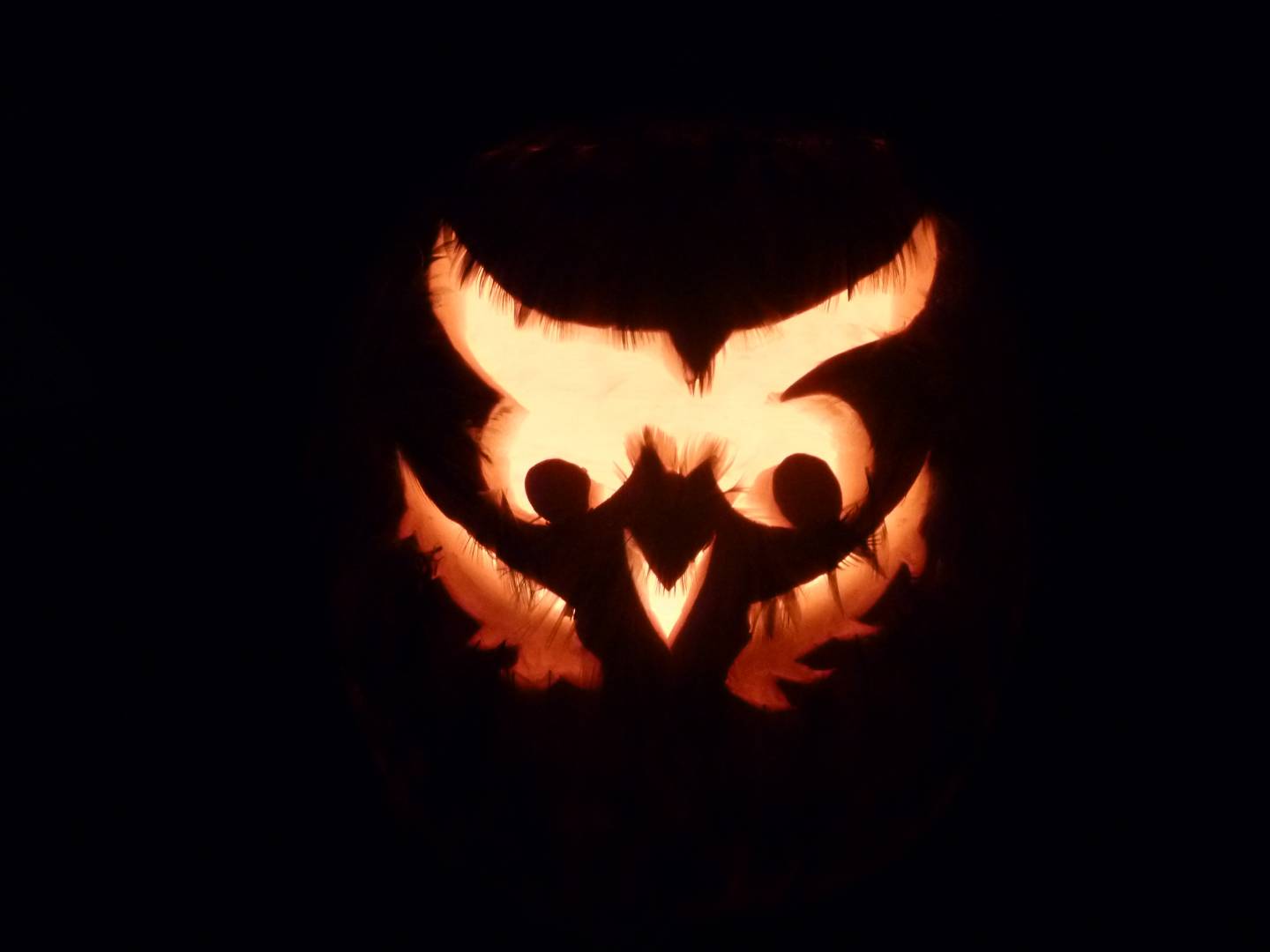 Hart's Annual Pumpkin Art Competition
Hart's Nottingham

Their annual pumpkin art competition is back for 2020 and this year you could win Traditional Afternoon Tea for Two worth £44. As the chefs have been preparing new seasonal dishes on the menu for Autumn, our minds turn to the creativity that the pumpkin competition brings us this time of year!

For the chance to win this annual pumpkin competition, all you have to do is get creative with a pumpkin and share your designs with Hart's on social media. There is no restriction on how many pumpkins you post. The more you post, the better chance you have of winning!

Date: Closes midnight on 30th Oct

More information here
____________________________


Where's Wally Spooky Trail
National Civil War Centre, Newark

Join the search for Wally with your family at the National Civil War Centre this half term.

They're part of the national 'Where's Wally? Spooky Museum Search', to celebrate the release of the new 'Where's Wally?' book, Spooky Spotlight Search.

Can you find Wally in their collections? Pick up an activity sheet and get a spooky bookmark if you do! Make sure to book your entry slot in advance on their Visit Us page as theyare currently operating with a maximum capacity.

Date: 9th Oct to 1st Nov 2020
Cost: Visit the website
___________________

Mayhem Film Festival 2020: Skeleton Edition
Broadway Cinema, Nottingham

The Mayhem Film Festival returns to Broadway, Nottingham with a Skeleton Edition this October - showcasing the best of horror, sci-fi and cult cinema from around the world.

Date: 15th to 18th Oct 2020

Tickets
________________

Family-Fun Nature Trail
Southwell Minster

Enjoy a nature trail around the grounds of Southwell Minster this October half-term.

The trail even gives you a chance to create your own 'Green Man' with leaves and sticks, and anything else you find on your trail – send a picture of your 'Green Men' by tagging @SouthwMinster on social media or by emailing them at This email address is being protected from spambots. You need JavaScript enabled to view it. The first 50 entrants will win a great prize!

Download your free nature trail here and take it with you when you visit
Date: Every day
Cost: Free
____________________________

Scary skeleton spider trail
Wollaton Hall and Deer Park, Nottingham


Find the scary skeleton spiders to claim a prize with this outdoor trail around Wollaton Park. Pick up a trail sheet at the cafe and shops.

Date: Every day
Cost: £2 per trail sheet

Car park charges will be contactless payment via phone, app or website using RingGo (£5 all day or £3 for 2 hours). No cash payments for car parking. Blue badge holder spaces permitted by the hall as normal.
______________________________

Lost City Nottingham
Nottingham City Centre

Nottingham's finest indoor adventure golf venue will be open every day during half-term and offers loads of family-friendly fun.

Pop down between 9am and 12noon to take advantage of their Earlybird savings and enjoy 2 cocktails for £10 every day between 5pm and 8pm.

For Halloween, anyone who visits in fancy dress (young or just 'young at heart ) will received half price entry on Sat 31st October!

Date: Every day
Time: 9am to 10pm

Tickets
________________________________

October Half-Term Events
National Justice Museum, Nottingham


Where's Wally? Spooky Museum Search

This Halloween, Wally, the world's favourite children's book character – wearing a red-and-white striped shirt and black-rimmed specs – will be travelling the country, appearing in museums, including the National Justice Museum. Families will be able to join the search for Wally at the National Justice Museum, Nottingham as part of the Where's Wally? Spooky Museum Search, organised by Walker Books and Kids in Museums, to celebrate the release of the new book, Where's Wally? Spooky Spotlight Search. For more information, click here
Kids' Ghost Hunter Tours

Catch the pesky ghosts this October at the National Justice Museum. Around Halloween the National Justice Museum becomes a hive of paranormal activity. Are you brave enough to help our over-worked Ghost Hunter catch the pesky ghosts which are causing mayhem throughout the museum? For more information, click here
Condemned

Walk in the steps of the condemned on this special Halloween tour.

This Halloween, you are invited to follow in the footsteps of those who were condemned at Nottingham's historic County Gaol. Stand in the dock where the condemned heard their fates, visit the dark cells where they spent their final hours before finally being escorted to the courtyard, where the gallows loom and the bodies were laid to rest. Hear twisted tales of true crime and discover the horrible histories of those who came before you on our new socially distanced guided tour of the Gaol. For more information, click here
Date: Every Day

Tickets
_____________________

Nott's Maze
Arnold, Nottingham

If you fancy getting lost amongst the maize this October Half-Term, head to Nott's Maize in Arnold. The maze spans 4 acres and the path itself is almost a mile long! There are lots of hidden activiites along the way to its centre, ensuring that the whole family has an exciting and challenging day out.

If you've already completed the maze in the daytime and fancy a further challenge, have a go in the dark on one of their Torch Nights on 17th and 20th October 2020.

Date: Open daily until
Time: 10am to 5pm
Cost: £5 adults online
£6 on the gate
£4 children online (3-15)
£5 on the gate

Bookings and further information about Notts Maze
______________________

Pick your own Pumpkins
Hayward Oaks Lane, Blidworth

A huge range of pumpkins to choose from. Pop along and pick up a pumpkin. There will be food and drink by Rocket Dogs and Little Schnauzer Coffee Company. No need to book.

Date: 16th to 31st Oct 2020
Time: 9.30am to 5.00pm
Cost: Free admission & parking

Card and cash payments accepted. No dogs.

Haywood Oaks Lane, Blidworth, Nottingham, NG21 OPE
_____________________

Rufford Abbey's Annual Halloween Monster Hunt
Rufford Abbey

Funny goings on have been reported to the Rufford Park Rangers and they need your help to hunt down the creatures, ghouls and ghosts and restore harmony for all.

Join the Rufford Monster Hunt team and follow the map into the haunted hideaways and creepy woods and find out what's the cause of Rufford's strange happenings.

Date: 17th Oct to 15th Nov 2020
Time: 10.30 am to 4.00 pm
Cost: £1.50 per monster map

Purchase the trail sheets from the Visitor Information Office. Card payments only.

Onsite parking costs £4
Book your parking online
____________________

P P Pick up a Pumpkin Festival
Maxeys Farm Shop

Home grown pumpkins... pop along and pick your own pumpkin! Lots of activities - Tractor Ride, Hot and Cold Food...Free entry, just pay for your pumpkins/activities/food.

Cash and card payments accepted. No dogs on site.

Date: 5th to 31st Oct 2020
Time: 9am to 5pm
Cost: £3

Hockerton Road, Kirklington, NG22 8PB
____________________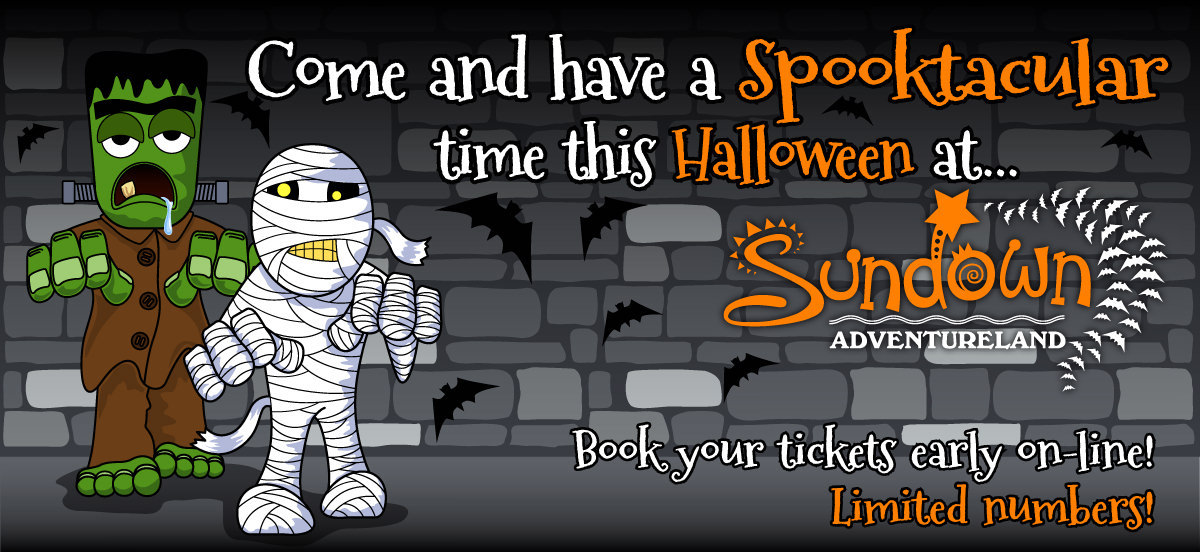 Halloween Fun
Sundown Adventureland

It's loads of spooky fun when Halloween arrives at Sundown Adventureland. You don't need to worry about the little ones as it's only ever spooky but never scary.

This year they've tried extra hard to keep you safe and sound and still give you and the kids a great, fun-filled, spooky day out. You don't need to worry about the little ones as it's only ever spooky and NEVER scary.

The fun starts with the all new Picture Pumpkin Puzzle. Explore the park (enjoying the rides and attractions on the way) and find the eight hidden Pumpkins and tick them off your Pumpkin Puzzle List. When you have found them all, head over to the Pumpkin Patch Cafe to trick a member of the Sundown Team and get yourself a sweet treat as a reward. The park will be decorated with lots of spooky loveliness throughout and there'll be loads for the kids to see and do.

It'll be a fun family Spooktacular Sundown day out with adventure and fun for all ages.

Date: 17th Oct to 1st Nov 2020
Time: 10am to 4pm
Cost: Prices and tickets
__________________


Spooky Sherwood Halloween Activities
Sherwood Forest

Halloween Family Trail
The spiders of Sherwood have stolen something very precious from Robin Hood, can you complete all the challenges on our trail to crack the code and return it to him? The fearful family trail is £2 and includes a souvenir Sherwood Forest pencil.
Available 10am – 3pm, 17th October – 1st November.


Spooky Sherwood Detective Pack


Get in the Halloween spirit with their Spooky Sherwood Detective Pack, containing craft materials and family nature activities for the forest.
£1 per pack, available 10am – 3pm on Thursdays, Fridays, Saturdays and Sundays in half term.
No booking required. Please note that all activities can be purchased by card payment only.


Date See above

Time: See above

Cost: See above


Please note, a standard car parking charge of £4 applies (free to RSPB members).
_____________________

Wise Owl Walk
Nottingham City Centre

Taking place between 1st September and 6th November - The Wise Owl Walk is a trail spanning throughout Nottingham City centre and is perfect for people of all ages but may be particularly fun day out for families. The goal is to find all our Wise Owls which we've placed around the city. We'll give you a map and some hints to help you find them but you'll need a keen eye to discover the exact locations! Every Wise Owl is completely unique and has been designed by a roster of talented artists. Do you have what it takes to win this gigantic game of hide and seek?

The Wise Owl Walk is simple, fun and completely free of charge to take part in. To get started all you need is one of their handy maps and the spirit of adventure! Pick up a free map from any of the venues listed here or download a copy by clicking HERE. On the reverse of the map they've included your very own owl to colour in and space to write down the secret sentence of the Wise Owls ... once you've figured it out that is.

Date: 1st Sept to 6th Nov 2020
Cost: Free
___________________

Halloween Bat Trail
Creswell Crags

Enjoy this beautiful outdoor site with your family this October, by taking part in the Creswell Crags Halloween Bat Trail!

Families of bats - with their own colour and Witch Mark symbols - will be all around Creswell Crags. Grab a trail sheet and complimentary pencil and see if you can find them all! All participants will receive a trail sheet, Creswell Crags pencil to keep, and a small goody bag including a colouring sheet and a sweet treat.

You will pick up your pencil, trail sheet and goody bag when you arrive. This will include your prize - which is different from other years, but is to stop you having to return to the Visitor Centre at the end of the trail, to help with social distancing. You do not need to book for this activity but please be aware that there might be a short wait if they are busy. This activity is suitable for families of all ages. Please note that they are obliged to enforce the 'rule of 6' at the site, including outdoors and cannot allow multiple households to meet up. But they have lots of space, even on busy days, for you and your family/household!

Date: 17th Oct to 8th Nov 2020
Time: 10am to 4pm
Cost: £3 to take part

Parking is £4 for 3 hours or £6 for a full day. They have an annual parking pass - park as many times as you like in a year for just £15.
_____________________

The Bramley Apple Festival of Food and Drink 2020
Southwell Minster

Every October, Southwell celebrates the wonderful Bramley Apple with a host of events, competions, displays, cookery demos and other things to do all based on apples.

On Saturday 24th October, a Food and Drink Festival is held in Southwell Minster and incorporates all manner of apple-related products, fruit specialists and craftsmen as well as live cookery demonstrations. A multitude of stalls will be offering all manner of food and drink including pies, chocolates, jams, chutneys, pickles, sausages and much,much more! Entry is free but a donation (suggested £3 donation) would be appreciated. Throughout the town shops, businesses, Southwell Library, cafes, restaurants and local pubs take part in the occasion including apple-themed window displays. Look out for the Crowning of the Apple King and Queen and come and join in the music and dancing to celebrate the Bramley apple.

Date: 24th Oct 2020
Time: Various
Cost: Free entry

________________________

Pawsby Dog Show
Thoresby Park

This fun dog show returns for the second year, with fun for the whole family. Includes:

- Demonstrations
- Have a go activities
- Fun dog show
- Food & drink stalls
- Face painting
- Stalls
- Kids fair ground rides
- Miniature Railway Train
- Pet advice


Free entry into the event. Parking is £1 for an hour or £3 for the full day.
Date: 25th Oct 2020
Time: 10am to 4pm
Cost: £2 per entry
________________________

Jumpers 4 Goalposts
Charnwood Centre, Clifton NG11 8LU

Join Step Out to Stay Out and Notts County FC Fit in the Community for this Halloween Special Jumpers for Goalposts. There will be prizes for your costumes, so don't forget to dress up! This is for ages 5 to 16 and is free to attend.

Take jumpers for the goalposts!

Date: 29th October 2020
Time: 10am to 1pm
Cost: Free
__________________

Spectacle of Light
Rufford Abbey Country Park

Enjoy the new illuminated trail around Rufford Abbey's stunning grounds, with sparkling installations throughout the beautiful gardens and romantic ruins.

Captain your own ship and scale the castle walls as you explore the night-time wonder of the new Adventure Play Area all lit under the stars.
Sip delicious night-time warmers of Mulled Wine and Hot Chocolate as you follow this magical trail around these beautiful grounds. Tuck into scrumptious hot food in the Adventure Play Area and the Abbey Courtyard.

A typical walk will take approximately 60 – 75 minutes, although if you wish to stay longer you are very welcome.

Date: 29th Oct to 15th Nov 2020
Time: 5.30 pm to 7.00pm entry times
Cost: Tickets
________________________

Halloween Family Potion Trail
Sherwood Forest

As the light fades and evil spirits begin their tricks, follow our breadcrumbs to meet some of the forest's darker inhabitants. Each of our gruesome guides has a tale to tell and a gift to bestow, gather them all to mix a potent Halloween potion…

For Covid-19 safety this event is by pre-booking only for a 'bubble ticket' of up to 6 people departing at: 4:30pm, 4:45pm, 5:00pm & 5:15pm

Date: 30th and 31st Oct 2020
Time: See above
Cost: £48.50

Tickets
___________________

Halloween Sightseeing Cruise
Trent River Cruises, Nottingham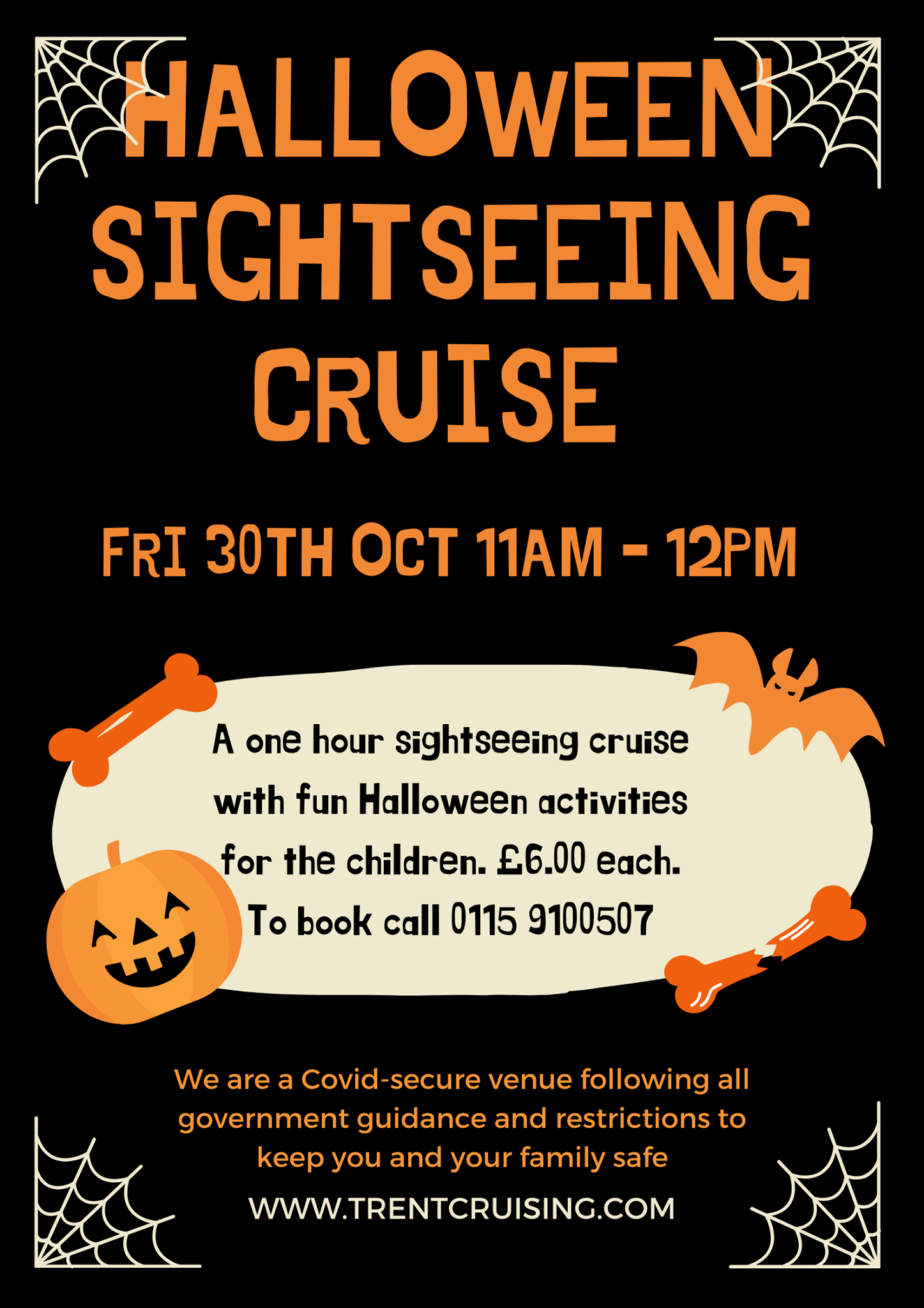 Date: 30th Oct 2020
Cost: £6 pp
__________________________

Halloween by Torchlight
White Post Farm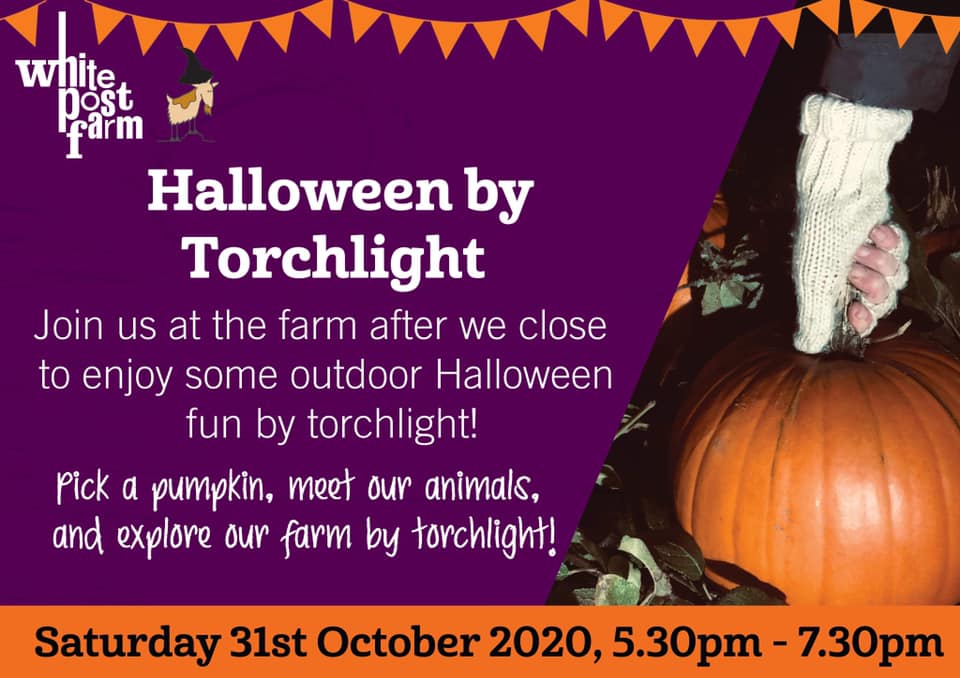 Date: 31st Oct 2020
Time: 5.30pm to 7.30pm

Tickets
____________________

Halloween Outdoor Cinema
Wollaton Park

Grab a blanket and head to Wollaton Hall this Halloween (and beyond) for a whole (g)host of spooky films, including The Shining, Hocus Pocus, The Lost Boys and Ghostbusters.

Date: 30th Oct to 1st Nov 2020
Time: Various

Tickets
___________________

Halloween Films
Savoy Cinema, Nottingham

You're in for lots of devilish fun this Halloween at Nottingham's Savoy Cinema. Catch Hocus Pocus and Halloween (1978) - something for everyone, whether you like wild witches or having the socks scared off you.

Date: 31st Oct 2020
Time: Various
Cost: Tickets
___________________________

Halloween in Nottingham
Nottingham City Centre

This year will see the return of the fang-tastic Ecto-1 car from Ghost Busters, along with some Ghostbusters for you to have your photo with!

This year, the car will be in a secret location, which will be revealed at a later date!

This event is FREE to attend and suitable for the whole family. See you there!

Date: 31st Oct 2019
Time: TBC
Cost: Free
___________________

Halloween Skating
National Ice Centre

Get that Halloween costume at the ready cos you're in for a treat! Spooky skating sessions will take place throughout the day on Saturday 31 October 2020. We'll be handing out free skating tickets on each session for the best dressed so make sure you dress to impress and get ready to skate to a whole host of spooky tunes.

Session times on Saturday 31 October:

11am-12pm includes Tots Zone
12:05pm-1:05pm includes Tots Zone
1:10pm-2:10pm includes Tots Zone
2:15pm-3:15pm includes Tots Zone
3:20pm-4:20pm includes Tots Zone
6:55pm-7:55pm
8pm-9pm

Pre-book your session now

Date: 31st Oct 2020
____________________

Due to the continuing changing situation with Covid, please ensure that events are taking place before you travel by contacting the venue. We cannot be held responsible for last-minute cancellations.