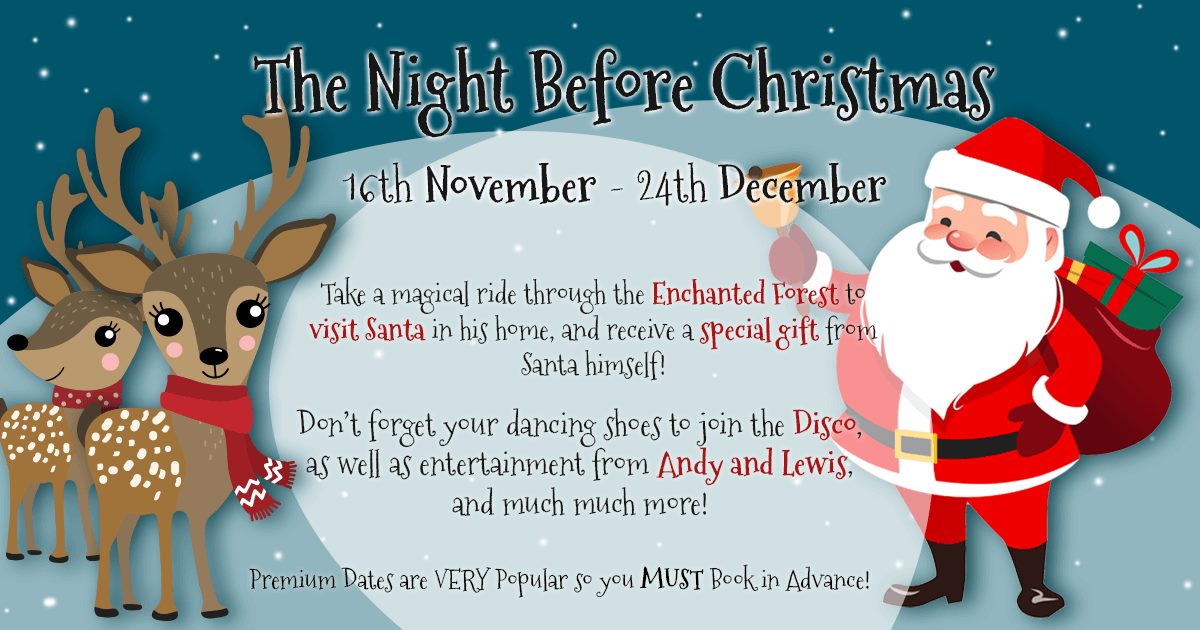 Festive events in Nottinghamshire: 9th to 13th December 2019

The good stuff just keep on coming across Nottinghamshire, with festive events galore taking place. Fairs, markets, Santa, grottoes - there's so much to do in Robin Hood's County.

Please take a look at our week-by-week guide. We'll be adding more events every day, so please keep checking back and follow us on Twitter for all the latest updates @things_to_do.

9th to 13th December 2019

White Post Christmas
White Post Farm

Join the animals and farmers down at White Post Farm this December to meet Santa, learn about their reindeer, take part in the Nativity and loads more free-range fun.

Date: 9th to 13th December 2019
Time: 10am to 5pm
Cost: Tickets and information
______

9th to 13th December 2019

Christmas Spectacular
Sundown Adventureland, Retford

When it comes to a Christmas Event in Nottinghamshire, no-one does it better than Sundown Adventureland. As Christmas draws near, the park is converted into a Winter Wonderland with Christmas theming throughout and the annual opening of the wonderful 'Night before Christmas' ride. Climb aboard one of Santa's sleighs and take a magical journey through the enchanted forest. You'll be greeted by the elves and the ever friendly Mrs.Claus and when it's your time, you'll be invited to meet the big man himself!

During the Christmas Spectacular Weekends, there's an even more Christmassy feel with the opening of the Christmas marquee where you can meet the dancing bears, laugh your socks off with Andy and Lewis and meet the Snow Queen.

Date: 16th November to 24th December 2019

Tickets here
______

9th to 13th December 2019

Winter Wonderland
Old Market Square and Long Row, Nottingham

Nottingham's Winter Wonderland brings loads of festive family fun this Christmas. Shop in the Christmas Market, where you'll find over 70 stalls selling a wide range of food, drink and gifts. Skate on the 110 square meter outdoor ice rink - the largest in the East Midlands. Take a trip down the Toboggan Slide, ride on the traditional carousel or take a slide on the Helter Skelter.

After all of that exercise, why not stop off at the Helter Skelter Bar, where you'll find mulled wine, spiced cider and hot toddies, or chill out in The Alpine Ice Bar - the UK's biggest mobile ice bar, where drinks will be served in real ice glasses from the Vodka bar. The Altitude Bar is an all-glass chalet which offers panoramic views of the Market Square, along with cocktails, table service and a private DJ.

More information about Nottingham's Winter Wonderland and bookings.

Date: 9th to 13th December 2019
Time: Various
_____

9th to 13th December 2019

I Love Mansfield Christmas Market
Mansfield City Centre

This year, Mansfield is hosting its special Christmas market with lovely Christmas Chalets on West Gate, Mansfield Town Centre for even longer, due to demand. The chalets will be set up ready to open every day from Sunday 17th November, the BIG Switch on day through to Sunday 22nd December from 10am. With special late night openings too!

Enjoy a stroll around The 'I Love Mansfield' Christmas Market for those special stocking fillers and enjoy a delicious drink or bite to eat. There will be lots of lovely things to see and do, with Carol singing from local schools, entertainment from local musicians, free goodies and prizes to be won! Follow the Christmas trail and vote for your favourite shop window display, details in the Christmas booklet available from November.

Date: 17th November to 22nd December 2019
Time: 10am to 5pm

Late night shopping on 12th December.
_________

9th December 2019

Beer and Carols
Malt Cross, St James' Street, Nottingham

Entry on the night is first-come and as always, is FREE! Join them for a 7pm start wearing your best Christmas bling, ready to have a pint, sing in your finest voices and have a merry old time. There is lift access to both floors and a disabled toilet on the ground floor. Children aged over 16 are welcome as long as they are accompanied by a supervising adult.

Date: Monday 9th December 2019
Time: 7pm
Cost: Free entry
______

9th December 2019

Revolution
Nottingham Cornerhouse

Enjoy 50% off burgers, pizzas, mains, salads and sandwiches. Get money off cocktails between 11am and 9pm too!

Date: 9th December 2019
Time: 11am to 10pm
______

9th December 2019

Free Lunchtime Christmas Concert
Theatre Royal and Concert Hall, Nottingham

Take your family and friends along to the free festive lunchtime concert, with performances from their Chamber Choir and Brass Band. Get ready for a selection of old and new Christmas tunes and warm up those vocal chords ready for some audience carols.

Date: 9th December 2019
Time: 1.00 pm
Cost: Free entry
_______

9th to 13th December 2019

Sleeping Beauty
Nottingham Playhouse

Experience the magic of this year's pantomime Sleeping Beauty from Friday 22 November 2019 to Saturday 11 January 2020. With spectacular costumes, stunning sets, plenty of belly-laughs and magical musical numbers, our legendary panto is perfect for a family treat.

Date: 22nd November to 11th January
Time: Various
Cost: Tickets and information
_______

9th to 13th December 2019

Aladdin
Nottingham Arts Theatre

Jump aboard a magic carpet and travel with us to a busy Chinese town for a spectacular pantomime adventure. Dreaming of a better life, Aladdin wishes to stop working for his mother, Widow Twankey, in their family run launderette. With help (and some hindrance) from the likes of his brother Wishee Washee, Aladdin goes on adventure to find a secret magical lamp hoping that this will change his destiny. Meanwhile, the evil Abanazar plots to overthrow the Emperor and marry the Princess so that he can become the all powerful ruler. Will Abanazar succeed or will Aladdin come up with an in-Genie-us plan!

Don't miss the adventure of a lifetime in this action-packed, magical Amanda Hall production, once again at the Nottingham Arts Theatre from 30th November - 15th December 2019.

Date: 30th November to 15th December

Tickets here
_______

10th December 2019

Christmas Singing with Nottingham Lunchtime Voices
The Exchange, Nottingham

Christmas at The Exchange is noted for the live music performed in the centre's magnificent arcade, and this year there is a programme of appearances from some of the region's top singing ensembles and choirs.

Date: 10th December 2019
Time: 12.30 pm to 1.30 pm
Cost: Free
______

10th December 2019

Civic Christmas Carol Service
St Mary's Church, Nottingham

The Lord Mayor and Sheriff have pleasure in welcoming you to the Civic Christmas Carol Service, with carols from Rosslyn Park School and Walter Halls School and live music performed by Nottingham Music Hub's Jazz Squad and Nottingham Girls and Boys Brigades.

Please book your free tickets by calling 0115 8765654 or email This email address is being protected from spambots. You need JavaScript enabled to view it. and a ticket will be reserved for collection.

Date: 10th December 2019
Time: 6.30 pm
Cost: Free
______

10th December 2019

Rag Rugs - Christmas Wreath Making
Canalside Heritage Centre, Beeston

Fancy making your own Rag Rug Christmas Wreath? Then join their friendly team as they get into the festive spirit throughout December.

Pop into The Tearoom every Tuesday. No booking required. Just drop in and have a go or contact Christine on 0759 191092 for more details.

Date: 10th December 2019
Time: 12 noon to 2pm
Cost: Free
_______

10th December 2019

Beer and Carols
Malt Cross
St James' Street, Nottingham

Entry on the night is first-come and as always, is FREE! Join them for a 7pm start wearing your best Christmas bling, ready to have a pint, sing in your finest voices and have a merry old time. There is lift access to both floors and a disabled toilet on the ground floor. Children aged over 16 are welcome as long as they are accompanied by a supervising adult.

Date: Tuesday 10th December 2019
Time: 7pm
Cost: Free entry
______

11th December 2019

Beer and Carols
Malt Cross
St James' Street, Nottingham

Entry on the night is first-come and as always, is FREE! Join them for a 7pm start wearing your best Christmas bling, ready to have a pint, sing in your finest voices and have a merry old time. There is lift access to both floors and a disabled toilet on the ground floor. Children aged over 16 are welcome as long as they are accompanied by a supervising adult.

Date: Wednesday 11th December 2019
Time: 7pm
Cost: Free entry
______

11th December 2019

Joint Christmas Carol Service
Southwell Minster

Nottinghamshire Police, Nottinghamshire Fire & Rescue Service (NFRS) and @EMASNHSTRUST (EMAS), are hosting their 10th joint Christmas Carol service this year, within the magical setting of Southwell Minster. This collaboration has, for many years, been a perfect opportunity for our services to come together and collectively remember the meaning of Christmas, whilst also enjoying the wonderful festivities with family and friends. All members of the community are more than welcome to attend this free event, for an evening of traditional Christmas Carols such as 'O Little Town of Bethlehem', 'Away in a Manger', 'Come all Ye Faithful', as well as wonderful Christmas readings by representatives from Nottinghamshire Police, Nottinghamshire Fire and Rescue Service and East Midlands Ambulance Service. Nottinghamshire Police brass band, 18 Bag Pipers & Drums, as well as a guest appearance from the well renowned soaring voices of the Bridge Singers.

Date: 11th December 2019
Time: 7.00pm
Cost: Free
_______

11th December 2019

Las Iguanas Nottingham

The folk at Las Iguanas are hosting a Harry Potter themed quiz so you can get your friends together, get in the Christmas spirit and test your knowledge on all things to do with Harry Potter. From movies to books and everything in between, if you think you can slitherin to win, get down for your chance to win!

Entry is £1 per player and the winning team wins the cash jackpot, as well as a bottle of our Las Iguanas Magnifica Cachaca, so you really can get in the festive 'spirit'! We'll be serving up 241 cocktails as usual. Call 0115 959 6390 to book.

Date: 11th December 2019
Time: 7.00 pm
Cost: £1
_______

11th December to 4th January 2019

Pinocchio
Nottingham Playhouse


An enchanting festive show especially for little ones. Filled with music, dancing and plenty of chances to join in, this updated version of the classic tale is plenty of fun and packed with surprises. One day Pinocchio learns that he isn't a real boy as he'd always thought. He's actually made of wood! Struggling to fit in, he sets off on an exciting adventure with his trusty sidekick cricket to find out how to become a real boy. Along the way, Pinocchio makes friends with a whole host of larger-than-life characters. The only trouble is, he can't help but tell lies and each one makes his nose grow! Can cheeky Pinocchio stop telling fibs? Will he find the secret to becoming a real boy, or can he learn to accept himself the way he is?

Perfect for ages 3 – 8, enter Pinocchio's magical world and make lasting memories with your little ones this Christmas.

Date: 11th December to 4th January

Book tickets
______
11th December 2019

The £1 Comedy Night
Canalhouse Bar, Nottingham

See top acts practising their new material and support the up-and-coming acts as they start their careers. You never know who may become the next big star! All for just £1.

Date: 11th December 2019
Time: Doors Open 7.30 pm Starts 8.00 pm
Cost: £1
_______

12th December 2019

Carols by Candlelight
St Barnabus Cathedral, Nottingham

Join us for our Christmas Concert in the beautiful setting of St Barnabas Cathedral on Thursday 12 December 2019. An evening of carols, music and readings will be hosted by TV and radio broadcaster John Hess. Mirablè - a Nottingham based vocal ensemble will perform some festive favourites as well as some contemporary pieces. We are also delighted to be joined this year by Aurora, a local Saxophone group and Claire Bhabra and Deirdre Benscik from Sinfonia Viva.

Interval refreshments will be served and there will be a Christmas raffle to raise funds for Maggie's Nottingham.
Date: Thursday 12 December 2019
Time: 6pm
Tickets: £10 Buy here

Location: St Barnabas Cathedral, North Circus Street, Nottingham NG1 5AE
_______

13th December 2019

Make it Yours Workshop: Beautiful Ropes
National Justice Museum, Nottingham

Between 10am and 12.30pm every Friday morning, you're invited to drop into our 'creative space' and make something inspired by the museum collection. Be inspired by an extraordinary escape rope made entirely from bed sheets. Make your own ropes from bright and beautiful fabrics and textured materials, with artist Nadim Chaudry.

Free, all ages welcome. Materials provided.

Date: 13th December 2019
Time: 10.00 am
Cost: Free
________

13th December 2019

A Christmas Concert
St Mary's Church, Nottingham

Join Hope Community Gospel Choir for an evening of musical entertainment in aid of Emmanuel House Support Centre in the beautiful St Mary's Church, Nottingham. Tickets are £5 and are available on the door. Under 5's go free

Date: 13th December 2019
Time: Doors Open 6.30 pm
Concert starts at 7.00 pm

40 High Pavement, Nottingham NG1 1NH
_______

13th December 2019

Make it Yours Workshop: Beautiful Ropes
National Justice Museum

Be inspired by an extraordinary escape rope made entirely from bed sheets. Make your own ropes from bright and beautiful fabrics and textured materials, with artist Nadim Chaudry. Free, all ages welcome. Materials provided.

Date: 13th December 2019
Time: 10am
Cost: Free
______

13th December 2019

Love Actually - Christmas Cinema
The Garage, Chilwell

The quintessential Christmas film, Love Actually follows the lives of eight very different couples in dealing with their love lives in various loosely interrelated tales set during a frantic month before Christmas in London, England. A true Christmas classic. With a star studded cast including Bill Nighy, Hugh Grant, Kiera Knightley, Martin Freeman, Liam Neeson, Alan Rickman and Emma Thompson, come enjoy one of the quintessential Christmas time romantic comedies at The Garage this winter.

Cosy-up with a mulled wine, hot chocolate, prosecco or real ale to enjoy this Christmas classic. Why not grab a brownie box while you're at it?! Take a seat on one of almost 100 1930s theater seats that were sourced from iconic local theater and cinema The Byron in Hucknall. It can get cold, so please take coats and blankets!

Date: 13th December 2019
Time: 6.30 pm
Cost: £6

Call 0780 8864837 for more information. They recommend you book tickets in advance here
________

Win 2 tickets to see Diva: The Limelight Orchestra at Nottingham's Royal Centre on 20th March 2020 in our latest free competition. Please click here to enter.


Want to know what's happening across Nottinghamshire next weekend? Please take a look at our Christmas Events Guide for 14th and 15th December 2019.