16th June 2021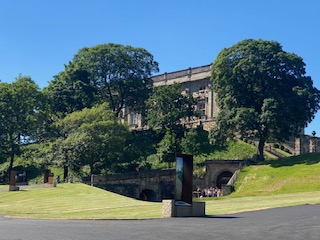 In my dual roles with the World Wide Robin Hood Society and Things to do in Nottinghamshire, I have been following the £30 million refurbishment of Nottingham Castle with great interest and was delighted to be invited along to have a pre-opening visit

The Castle is due to re-launch on 21st June and promises thrilling tales of Robin Hood and rebellion, the chance to explore historic caves and inspiration from their curated art collections and exhibitions.

As a Nottingham resident, I have always been slightly embarrassed about the Castle - although it is really a Ducal Mansion - especially when people have seen the Robin Hood films and visit our City fully expecting to see something a bit more medieval. Past visits have found me walking quickly through the galleries and not really finding much of interest. I also found the lack of information about Robin Hood quite irritating.

So, having a huge interest in tourism to the City, I was excited to see the changes and was really hoping that everyone involved had taken the opportunity to fully promote Nottingham's history and, of course, the tales of Robin Hood, in order to grab our share of UK visitors and staycationers with our latest visitor attraction.

First impressions were good. The day was beautiful - which always helps - and the Castle grounds looks resplendent. After the original gatehouse, the new visitor centre and cafe (which you don't have to pay to access) provide an attractive and welcoming entry and would certainly be a nice place to view the Castle over a cuppa.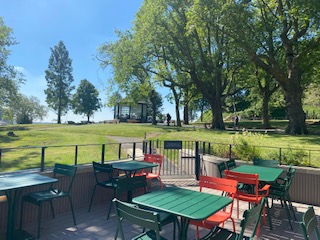 We started our visit at 'Robin Hood Adventures in Medieval Nottingham', where you can hear about Robin's greatest tales, via a series of large screens and video. I found it really interesting but its quite long and I think children may struggle to stay focused until the end. The good news, however, is that you don't have to stay and watch it all - there are plenty of interactive games, including digital longbow and quarterstaff games, that will amuse any ages. This experience is an add-on and costs £3.00 for adults and £2.50 for children.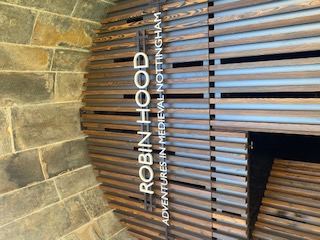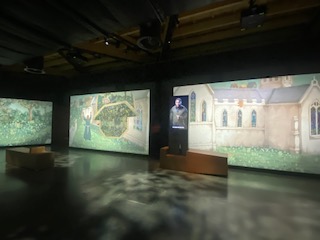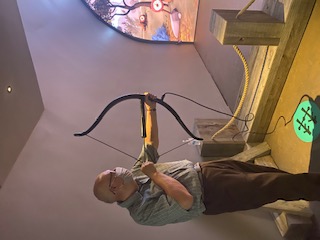 We'd booked onto the Castle Cave Tour, which again is not included in your Castle entry ticket and costs £5 for adults and £4 for children. The tour is 25 minutes long and gives you the opportunity to explore the foundations of the castle with a group, on a timed ticket. Our guide, Kat, was excellent - knowledgeable and entertaining and I found the tour very interesting. Please note that there are about 120 steps and some of the ground is uneven.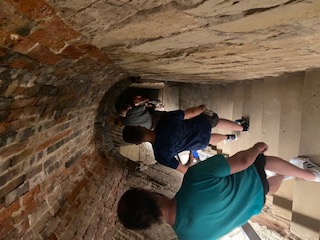 After the Cave Tour and a short break in the cafe (which has fabulous views over Nottingham) we popped into the Rebellion Gallery. There is plenty to read and listen to in this area, with interactive screens, video and text panels, telling the stories of Nottingham's three most rebellious and bloody episodes - The Civil War, The Luddites and Parliamentary Reform. Again, I enjoyed the layout of this area and found it to be informative and easy to understand.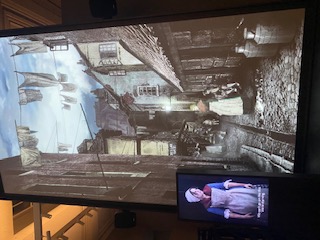 The Paul Smith Gallery wasn't open but I will definitely be visiting this in the future, so we headed to the Early Nottingham Craft and Nottingham Lace Galleries. I have visited Nottingham Castle on numerous occasions and suspect I have walked past quite a few of the exhibits now on show without noticing them. The new galleries have accessible, eye-catching displays, making it much easier and more enjoyable to view all of the exhibits - you can even have a go at designing your own digital sculpture.

The Art Gallery is still a beautiful space and gives visitors the opportunity to look at the fabulous collection of paintings and art in a quiet, relaxing area.

Finally, we headed back outside to check out Hood's Hideout, which is a wooden outdoor play paradise for children. This area is fabulous for youngsters and, to be honest, is probably the place that they will enjoy the most. There isn't a massive amount inside the Castle for under 7s (yet) although they will likely enjoy the cave tours and the interactive games in Robin Hood Adventures. However, the Castle is promising lots of special events and costumed interpreters, so it's definitely a good all-round family attraction.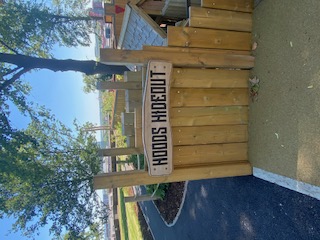 Do I recommend Nottingham Castle? Absolutely. Do I think it's good value for money? Yes, actually I do. There is a lot to see and do and, when you compare it to other visitor attractions, I think the pricing is fair, especially as you could easily spend a good few hours there (more if the weather is nice because the grounds are fabulous). Nottingham residents can access a 10% discount but you'll need proof of residence. I would have like to have seen the offer of a return ticket (when you pay you get, say, 1 month to go back for another visit included), as there is a lot to see and read and sometimes it can cause brain overload.

Pre-booking of tickets is recommended and you can find out more and books yours on the Nottingham Castle website here

Please take a look at our YouTube video, giving a rundown of our Top Things to Do at Nottingham Castle here
____________________________________________