Are you looking for things to do in Nottinghamshire this weekend? There are always lots of special events taking place, including family activities and free things to do.
Don't forget that Nottinghamshire has some fantastic visitor attractions, including White Post Farm, Sundown Adventureland, the National Justice Museum and City of Caves. Fancy some fresh air? Why not pop to one of our outdoor parks and spaces – there's plenty to see and do at Sherwood Pines, Rufford Country Park and Clumber Park throughout the year, with special events during seasonal holidays.

If you're visiting Nottinghamshire and are looking for accommodation and places to eat, why not take a look at our recommended hotels and restaurants.
Whatever your plans, we hope that you have a wonderful weekend in Nottinghamshire. This guide is updated weekly, so please keep checking back.

17th, 18th and 19th September 2021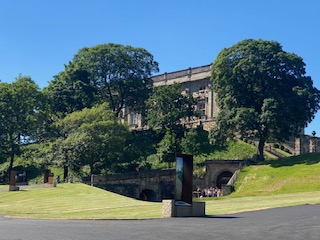 We have done our best to ensure that the information below is correct but please contact the venue before travelling, to avoid disappointment.
_________________
Treasure your River: Nottingham
Castle Wharf, Nottingham


Join Hubbub to celebrate Talk Like a Pirate Day in litter picking style.
Visit Castle Wharf in Nottingham on Sunday 19 September to highlight the Treasure Your River Campaign – which is all about preventing river litter across the UK.

Here's a taster of what you could get involved with on the day:
Children can captain the pirate (litter-eating) ghost ships, set sail whilst staying dry. Their remote controlled litter-busting boats will clear anything lurking on the water, no sailing experience required.

Get up the creek with a paddle. Pirates aged 8 and over can have a go at their free canoe and paddleboard taster sessions, keeping an eye out for litter as you go.
Explore the catch of the day at their special fishmongers stall serving up a banquet of freshly caught litter.
Join a pirate on a search for treasure along the towpath.

Date: 19th September 2021
Cost: Free entry
Time: 10am to 4pm

Castle Wharf, Canal Street, Nottingham NG1 7HG

__________________
Robin Hood Town Tour
Nottingham City Centre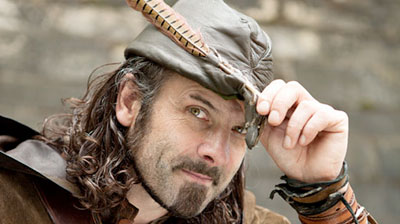 Meet Robin Hood and discover the truth of the 'Hooded Man'! Follow the trail of historical facts and learn how simple ballads over 700 years old grew into one of the greatest stories ever told. This thorough and fun exploration of the evolution of the legend is told against the back drop of the city. As you visit places associated with Robin Hood, you will also see the town's key sites of interest and learn about its history and culture. Enter ancient caves beneath the streets. Understand why Nottingham Castle isn't a castle. Marvel at the stunning architecture of the Lace Market, once lace capital of the world. Shudder in the shadow of the Old County Gaol and find tranquillity in St Mary's Churchyard.


Landmarks like the Council House, Old Market Square, the Theatre Royal and other, quirky, hidden surprises all await you on this adventure around town. The tour ends at Ye Olde Trip to Jerusalem where Robin Hood invites you to drink ales with him.
Date: 18th August 2021
Time: 2pm
Cost: Book tickets
_________________

Seed Bomb Making Workshop
National Justice Museum, Nottingham

Join artist Chiara Dellerba and make a selection of seed bombs to brighten our city empty green spaces with an explosion of wild flowers and colours. Using a combination of compost, flower seeds and clay we will create small 'bombs' to throw into patches of green, releasing pockets of seeds which will turn into a micro habitat for bees and insects!

Date: 17th September 2021
Cost: Free
Time: Various

Book here
_________________

Events at The Garage
Chilwell, Nottingham

Friday and Saturday: The Ruin Bar

Visit Beeston's version of Hungary's best known nightlife attractions on Saturday. Local ales, international craft beers and lagers, cocktails, gins, spirits and wines. Street food traders with a menu of award-winning food, from pan-Asian to South American to Central European.

No need to book and no time limit on tables.

Time: 5.00 pm to 11.00 pm Friday
3.00 pm to 11.00 pm Saturday
Cost: Free entry

Sunday: Fine Food and Craft Market

45 local independents selling unique products and award winning food and drinks. And, it's not just for the shopaholics….the market is the perfect destination for a chilled out Sunday with a coffee or a pint. Plenty of outdoor seating and hot food to enjoy before you head home for a well deserved afternoon nap!

Time: 10.00 am to 2.00 pm
Cost: Free entry

_________________

Titus is King Exhibition
Wollaton Hall

To 31st August 2022

Get ready for a roaring day out to see the first real Tyrannosaurus Rex to be exhibited in England for over a century!

Titus: T. rex is King is an extraordinary exhibition where you can explore the world of this titanic predator and his story. You'll see the skeleton of the T. rex himself, as well as digital and interactive virtual media displays that will immerse you in his extraordinary journey from discovery in the Montana Badlands in the USA, through the experience of excavation, curation, examination, rebuild and final reveal.

You will also be able to explore the legend of the T. rex, learn the truth behind the myths about this iconic dinosaur – and perhaps decide if in fact he was covered in scales, feathers or both.

Book tickets

_________________

Nottingham Ale Trail
Nottingham

3rd September to 3rd October 2021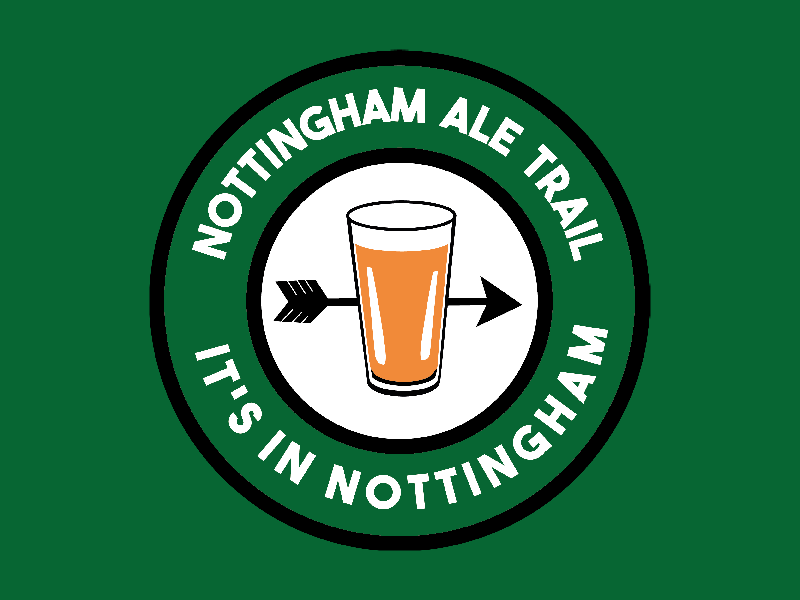 Visit each venue on a trail, buy a pint or half pint of cask ale and collect a sticker to put on your map or card. Once all stickers have been collected, take the completed map or card to the Nottingham Tourist and Travel Centre in the Market Square to claim a free limited edition enamel pin badge.

If all six ale trails are completed during the month, then as well as the pin badges, people will also be able to claim a free limited edition Nottingham Ale Trail T-shirt from The Stage pub on Wollaton Street in the city centre.

New for this year is a dog friendly trail designed for you to take your four-legged friends on. The Canine Trail is a flexible trail designed for dog owners who'd like to sample some of Nottingham's finest ale in the company of their faithful friend. The trail works in the same way as every other trail, but people can get to choose which venues to visit from the list. Pick up a Canine Trail card from any of the participating dog friendly venues and select the eight venues you wish to visit over the month, then collect stickers at each stop when you buy a cask ale.

Find out more here

_________________

Heritage Open Days
Nottinghamshire

September 2021

Heritage Open Days festival celebrates local history, architecture and culture across England and it's your chance to visit hidden places and experience new things, all for free.

Find out which locations and venues in Nottinghamshire are open during the Heritage Open Days festival here.

_________________

Chesterfield Canal Walking Festival

Possibly the largest organised canal walking event in the country will be taking place once again this September. The Chesterfield Canal Walking Festival takes in 3 counties and around 50 miles of tow paths over 9 days.

Organised by the Chesterfield Canal Trust, the festival will take place between Saturday 11th to Sunday 19th September with scores of guided walks - the majority of which are free - ranging from a children's walk of just two miles to the full 46-mile length of the canal in three days. There will be some special interest walks which will include subjects such as Wildlife, Architecture and Restoration, as well as opportunities to explore some of the attractive towns and villages in North Nottinghamshire.

There are also opportunities to combine a walk with a cruise on one of the beautiful Chesterfield Canal trip boats.

All walks must be booked in advance. Most of the walks are free, however, all the Walk Leaders will take a voluntary collection for the Chesterfield Canal Trust's Restoration Fund.

For full information about the walks, and associated useful information for participants, to download the Walking Festival Brochure, and to book your walks, visit the Chesterfield Canal Trust's website.


Date: 11th to 19th Setember 2021

_________________

North Notts Lit Fest 2021
North Nottinghamshire


The brilliant North Notts Lit Fest returns for its third year and this year is an 8-day affair with best-selling authors & writers, poets, workshops, talks, trails, theatre, 'behind the scenes' events and more. This year most events will be live with a few author events taking place on zoom.

The North Notts Literary Festival promises to have something for everyone no matter your age or where you live in the region! And all events are free.

Find out all the details here

Date: 12th to 19th September 2021

_________________


Festival of Food and Drink
Clumber Park
The Clumber Park Festival of Food and Drink returns this weekend with a fabulous line-up of celebrity chefs from your favourite TV programmes including Masterchef & BakeOff, cookery classes courtesy of The School of Artisan Food, delicious food & drink from around the world served by Pop-Up cafes and bars, beautiful gifts & homewares and much more!


Along with amazing celebrity chefs to watch and the wonderful cookery classes by our very own local The School of Artisan Food to enjoy, you'll also find scores of Exhibitors, live music, street food & bars, and lots more. There's something for every member of the family.

Date: 18th and 19th September 2021
Tickets and further information
_________________

Charity Dragon Boat Race
Newark Riverside Park

Dragon boat racing is the fastest growing water activity in Britain today – as well as the most fun! Up to 10 people paddle each 30' boat with a drummer at the front beating time. The race takes part over one day and each team will take part in a minimum of 3 races before the fastest team goes through to the semi-final.

There will also be a free family fun day with live entertainment, children's activities, inflatables, a bar and local food stalls.

Date: 19th September 2021
Time: From 10.15am

_________________

Hemlock Rocks
Bramcote Hills Park, Nottingham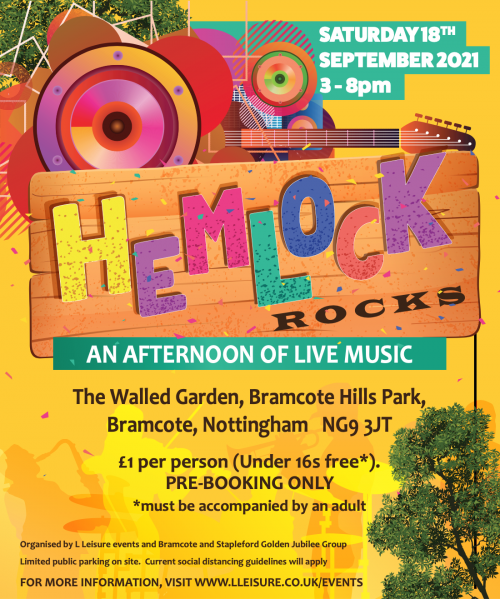 Celebrate the return of live outdoor music at the Hemlock Rocks event at Bramcote Hills Park this weekend.

Nestled in the intimate walled garden area of the park, the event is a great way to see out the end of the Summer with family and friends.


Enjoy an afternoon of quality music supplied by the likes of The Jeanie Barton Quartet, Nottingham's own DJ Expression playing a fine selection of popular and rare, soul, funk and house grooves, the Two Tone influenced sounds from the SKA's and acoustic classics from singer and guitar duo PancakeBoy & Miss Shapen. More acts to be confirmed.

Date: 18th September 2021
Time: 3pm to 8pm
Cost: £1 per person. Under 16s free with adult.

Booking essential as numbers are limited. Book here
_________________


BOOK NOW

15th to 31st October 2021

Dino Kingdom is a spectacular outdoor dinosaur experience aimed at family audiences with impressive installations of animated dinosaurs with electronic moving parts. Animatronics include arms moving up and down, tails swaying side-to-side, heads moving up and down, eyes blinking and jaws opening wide with roaring sound effects. Immersive 3D, AR, and Projection Mapping technology makes Dino Kingdom the most unique event of its kind. With many more activities and immersive elements of the kingdom to enjoy, Dino Kingdom is an experience that people of any age can enjoy.

Dino Kingdom will be landing in Nottinghamshire from 15th– 31st October (Closed for a private function on 17th). The event will be open from 10 am to 7 pm daily with the last entry at 5 pm. Each visitor will be able to explore the kingdom for up to 3 hours.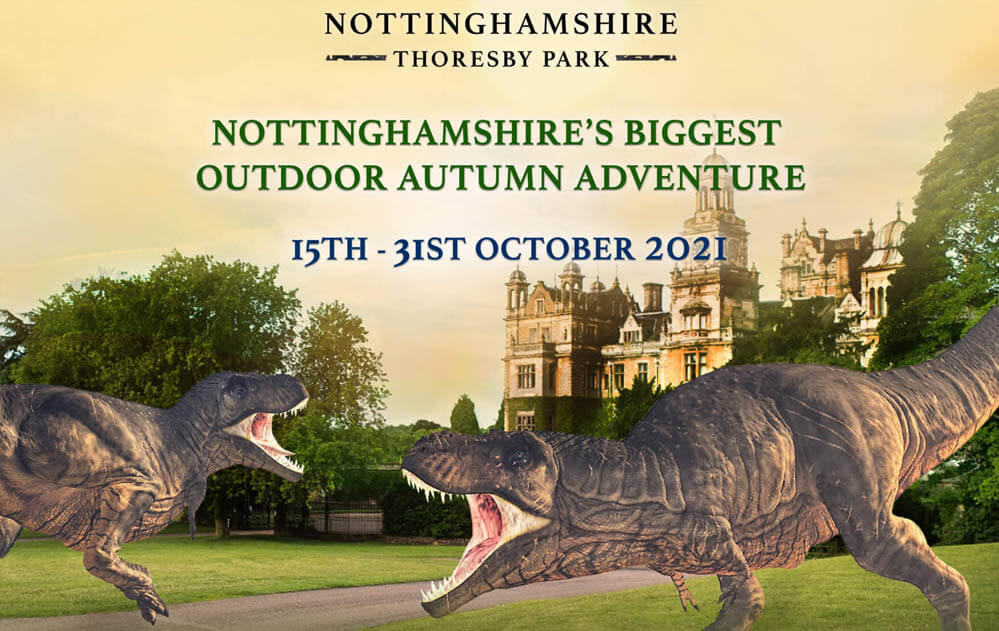 _________________

Please visit and subscribe to our new YouTube channel, where we will be visiting Nottinghamshire's best attractions.