Are you looking for things to do in Nottinghamshire this weekend? There are always lots of special events taking place, including family activities and free things to do.
Don't forget that Nottinghamshire has some fantastic visitor attractions, including White Post Farm, Sundown Adventureland, the National Justice Museum and City of Caves. Fancy some fresh air? Why not pop to one of our outdoor parks and spaces – there's plenty to see and do at Sherwood Pines, Rufford Country Park and Clumber Park throughout the year, with special events during seasonal holidays.

If you're visiting Nottinghamshire and are looking for accommodation and places to eat, why not take a look at our recommended hotels and restaurants.
Whatever your plans, we hope that you have a wonderful weekend in Nottinghamshire. This guide is updated weekly, so please keep checking back.




19th and 20th June 2021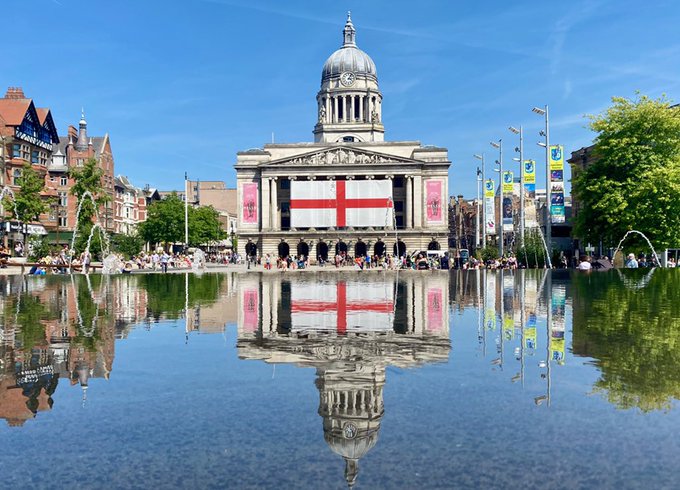 We have done our best to ensure that the information below is correct but please contact the venue before travelling, to avoid disappointment.

Beeston Farmers' Market
Beeston Square

A monthly farmer's market in the heart of Beeston. Pop along for lots of fresh, local produce.

Date: Saturday 19th June
Cost: Free
Time: 9am to 2pm
______________________

Craft and Artisan Food Market
Thoresby Park

Craft and artisan food market at Thoresby Park in Nottinghamshire, offering a range of stalls - from homemade dog treats and bee products, to gin, chutneys, jewellery and more.

Date: Saturday 19th June
Cost: Free entry
Time: 10am to 3pm

Car parking costs: £1 for up to 60 minutes, £3 from 1 hour to 15 hours
________________

The Story of Sherwood - Guided Walk
Sherwood Forest

Sherwood Forest has many tales to tell. Learn how Sherwood has been shaped over thousands of years by natural and human forces to become the iconic place we know today. From its ancient trees and the wildlife that lives amongst them, to its deep history and stories of fabled characters - join knowledgeable guides to discover Sherwood's secrets.

The walk will last approximately 90 minutes, starting at the visitor centre and ending at the Major Oak.

Date: Sunday 20th June 2021
Time: 10.30am to 12noon
Cost: £6

Buy tickets
________________

Events at The Garage
Chilwell

Friday - The Ruin Bar

Beeston takes on Budapest this Summer as The Garage transforms into their version of one of Hungary's best known nightlife attractions, The Ruin Bar.

Main bar stocking a range of local ales and international craft beers and lagers and specialist bars providing cocktails, gins, spirits and wines.

There will also be streetfood traders, with an ever-changing menu of award-winning food.

There's an outdoor garden and indoor off-beat themed indie bar. No need to book and no time limits on tables.

Date: Friday 18th June 2021
Cost: Free entry
Time: 5pm to 11pm

Sunday - Fine Food and Craft Market

Indoor and outdoor market, with over 40 different traders, hot food and two barister coffee traders. Lots of bespoke items, including pottery, furniture, comics and watches, candles, home decor, jewellery and plants.

Dog and child friendly.

Date: Sunday 20th June 2021
Cost: Free entry
Time: 10am to 2pm
_________________

Open Air Theatre
Wollaton Park

The Fools are dusting off their instruments and stepping back into the great outdoors, with a riotous new production of The Merry Wives Of Windsor. Prepare for an evening of mischief and hilarity, as The Fools present this rip-roaring Shakespearean comedy at one of the most beautiful and historic landmarks in the UK.
This Shakespearean classic will be getting the full Three Inch Fools treatment: live music-making, deft physicality and vibrant story-telling. Expect fast-paced drama, plenty of musical instruments and many a quick costume change along the way!
Bring your own cushions and camping-chairs and join us on our outdoor adventure. Come prepared for the weather – the performance will continue come rain come shine!
Date: Sunday 20th June 2021
Cost: Tickets from £11
Time: Gates Open 6pm. Starts at 7pm

Book tickets

_________________

Robin Hood Town Tour
Nottingham City Centre

Meet Robin Hood and discover the truth of the 'Hooded Man'! Follow the trail of historical facts and learn how simple ballads over 700 years old grew into one of the greatest stories ever told.

This thorough and fun exploration of the evolution of the legend is told against the back drop of the city. As you visit places associated with Robin Hood, you will also see the town's key sites of interest and learn about its history and culture.

Enter ancient caves beneath the streets. Understand why Nottingham Castle isn't a castle. Marvel at the stunning architecture of the Lace Market, once lace capital of the world. Shudder in the shadow of the Old County Gaol and find tranquillity in St Mary's Churchyard.

Landmarks like the Council House, Old Market Square, the Theatre Royal and other, quirky, hidden surprises all await you on this adventure around town. The tour ends at Ye Olde Trip to Jerusalem where Robin Hood invites you to drink ales with him.

Date: Saturday 19th June 2021
Time: 2pm
Cost: Book tickets
_________________

Family Tree Trails
Wollaton Park

Discover the amazing trees in Wollaton Park with our new family tree trail activity.

You will meet some of Wollaton's magnificent trees, learn to identify them and take a closer look at their leaves, flowers, bark and seeds as well as the animal life that lives on and around them. Fun science activities including measuring trees, comparing leaf shapes and bark patterns and finding out what woodlice like! You'll see species of trees whose ancestors lived at the same time as dinosaurs and relatives of the tallest and oldest trees in the world.
Date: Sunday 20th June 2021
Time: 10.30am to 12noon
Cost: £8.80

Children must be accompanied by an adult

Book here
__________________

La La Land - Outdoor Cinema
Nott's Maze, Arnold

Outdoor cinema under the stars at Notts Maze. Take a picnic and your fold-up chairs and blankets to watch this fabulous musical.

Date: Saturday 19th June 2021
Time: 7pm
Cost: £12 adults £8 concessions

Book here

__________________
Art Walk: Refugee Week 2021

Nottingham City Centre


The theme of Refugee Week 2021 is 'We Cannot Walk Alone' so lets 'walk, talk, listen and do' together.
Join local artist Chris as we take a stroll around Nottingham city centre whilst creating art together. We'll discuss the histories of the streets and how they might connect with our diverse and individual personal stories or journeys.
This is a great way to get to know the city if you've newly arrived or see our town through new eyes if you're a Nottingham native.
Date: Sunday 20th June 2021

Time: 12noon to 2.30pm

Cost: Free


Please click here to register and for more information
________________
Outdoor Market
The Avenues Independent Market, Sneinton


An outdoor market in & around the area of Sneinton Market Avenues. Alongside the retail business' situated on The Avenues there will be an array of stallholders supporting local, independent, creative business' & brands. From prints to jewelery, streetfood to florists, homewares to clothing.


Date: Saturday 19th June 2021

Time: 10am to 3pm

Cost: Free entry
______________________