21st January 2018
Quite a few trampoline centres have opened up around Nottinghamshire over the past couple of years but we were not aware of the Freestyle Trampoline Park at Kirkby-in-Ashfield until they asked us to pop over and try them out.
On arrival at Freestyle, we were greeted by manager Dan, who provided our children (Jake and Evie) with special jumping socks, asked us to sign a quick waiver and directed us over to the waiting area. Safety is big here and everyone who jumps must watch a video which outlines the dos and don'ts – however, its been done in a cartoony style, which was easy to follow and helped to keep the attention of the many children there.
Freestyle is big. All the trampolining is on one level, making it perfect for spectators and the more nervous kids, who might want to keep an eye on their parents (and vice versa). There are plenty of staff strategically placed around the venue, who are friendly and helpful and there to try to prevent any broken limbs (of which, apparently, there have been very few since the park opened!). This snowy Sunday afternoon was the perfect time to spend an hour warming up indoors, so Freestyle was busy but there still felt like there was plenty of room for everyone.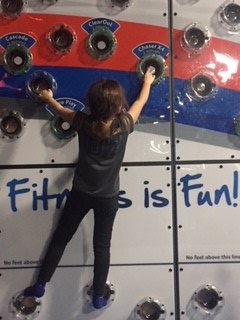 There is certainly plenty to keep you occupied for an hour at Freestyle. As well as a huge amount of trampolines set into the main floor, there is a gladiator-style battle beam, a couple of big airbags and slam-dunk (basketball) nets. There's also a traversing wall – where you pick an electronic game and then whack the lights as you travel across and a couple of dodgeball courts. My 12 year old son likes nothing better than expending energy by throwing balls at speed and he'd soon got a bit of a game going with some of the other lads there.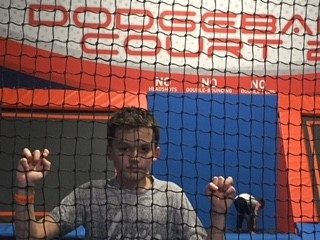 The atmosphere at Freestyle was vibrant today, with some banging music (but not too loud to give you a headache) and, at times, flashing lights and smoke, which made it feel like we were all at a big party. Apparently, they also do fitness classes and sensory sessions during the week, so there's plenty of opportunity for all ages to get involved and get some exercise.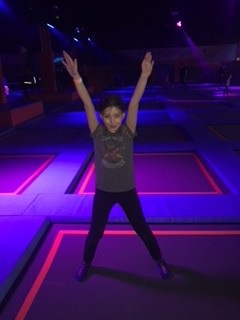 For those of you who want to find something for the kids to do but don't want to jump yourself (my hand is up here) there is a great café area selling drinks and hot and cold snacks and plenty of seating – it's kept clean and tidy, which is a big must for me. There's also a small soft play area for little kids in the café area and, very importantly, the coffee is pretty good and not expensive!
So, what did we think of Freestyle Trampoline Park. Well, it got a big thumbs-up from 9 year old Evie and 12 year old Jake. Evie said that there were lots of different things for her to do and she would really like go back with her friends. Although not quite understanding the rules, she loved the traversing wall! Jake enjoyed the airbags, the dodgeball and the slush drink afterwards – madness on such a cold day but he loved it!
Trampolining is a great fun activity and as well as being fantastic exercise, it's also very good value for money at just £5.95 for an hour's session, which is the cheapest in the East Midlands. Socks cost £1 extra but you can reuse them for future visits.
There is plenty of free parking at the venue and, in my opinion, it was well worth the relatively short trip for us from Nottingham to Kirby-in-Ashfield. This is especially worth noting if you are taking a few kids or organising a party, as you could save a substantial amount on the overall cost by going there rather than one of the Nottingham-based centres.
You can find out more about Kirkby-in-Ashfield's Freestyle Trampoline Park, including information about kids parties, corporate events and school trips by visiting their website here.