23rd November 2017
Think of where to have your Christmas party this year and you probably don't automatically think of Turtle Bay. With its laid-back Caribbean style, spicy flavours and banging cocktails, Turtle Bay is probably somewhere people often visit to re-live their summer holidays, not to get into the festive spirit.
So, the launch of their new Christmas menu for 2017 is pretty interesting. What on earth could this restaurant offer that would in any way fit in with the idea of a traditional festive night out? Well, to be honest, it doesn't and, furthermore, it doesn't even try. You won't see a hint of turkey or Christmas pudding on this menu, making it an ideal alternative if you're a bit fed up with the usual fayre.
Walking into Turtle Bay, which is located within Nottingham's Cornerhouse, we were immediately transported from a rather gloomy day in the City to distant Caribbean shores. The lighting, the décor, the music, the atmosphere and the friendliness of the staff gelled together to create a warm, welcoming environment, where it would be far too easy to stay for hours – particularly when we saw the substantial cocktail menu.
After choosing a traditional Mojito, which came within a 2-4-1 offer and a Jamaican Shandy, we had a good nosey through the various menus. There is a choice of Christmas packages that you can choose from but we had pre-ordered the All-Day Festive menu, which costs £24 per person and offers 4 courses.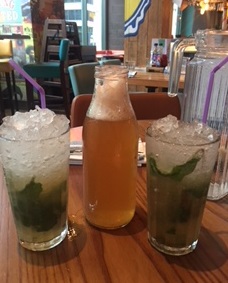 Hungrily launching into the Garlic 'N' Herb Flatbread, which was one of the 3 'pre-starters', we were rendered momentarily speechless by the abundance of flavours we experienced. The stone baked flatbread was soaked in the garlic and herb butter and served with fresh rocket. Followed by the Spicy Pork Rinds with Jerk BBQ sauce (their take on pork scratchings) and the Trini Chickpeas, with were dusted with thyme and spice, Turtle Bay's take on nibbles was pure perfection.
Starting to feel slightly full already, we moved onto our 'proper starters' of Duck Rolls and Garlic and Chilli Pit Prawns. Caution people – these portions are on the large side, so take your time! The Rolls were stuffed with shredded duck, sweet onion, soy sauce and chilli, along with sour orange chutney and were tender and tasty. The Prawns could have a whole page to themselves. Whole, shell-on king prawns grilled over a jerk pit and tossed in herb and chilli garlic butter, I could quite happily just imbibe a plate of these and go home happy. Without being too overboard, they were absolutely amazing – with just the right amount of spice and oozing with flavour.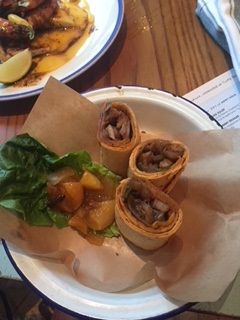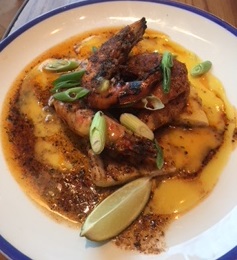 We were slowing down … and the food kept on coming. Having decided to share and so try as much as we could, our first Main was the Half Jerk Chicken, which had been marinated for 24 hours and pit grilled and served with coconut rice 'n' peas and Caribbean slaw and a choice of classic or coconut glaze. Again, this dish was nothing short of miraculous, especially as I'm not usually a fan of Jerk Chicken! The rice 'n' peas were the ideal partner for the chicken and everything was succulent and cooked to just the right level.
The second Main dish was the Pit Salmon, served with a crispy skin, grain salad and tangy sweet onion chutney and green seasoning. At the risk of sounding like a broken record, the salmon did not disappoint in any way. The skin was indeed crispy but the salmon was tender and the blend of flavours provided by the accompaniments was perfect.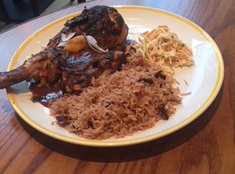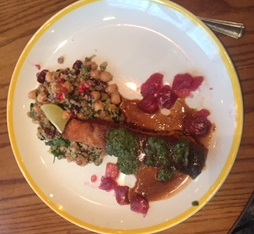 We weren't sure that we would actually be able to sample the puddings but, after undoing a few buttons, we resumed the challenge, going for the Caymanas Upside Down Pudding and the Sticky Black Treacle Pudding. The former was served warm, with rum caramel and vanilla ice cream - even thinking about it now is making my mouth water - and the latter with salted caramel, black treacle and vanilla ice cream. Both were totally moorish and did nothing short of tantalising the tastebuds with a wealth of different textures and flavours.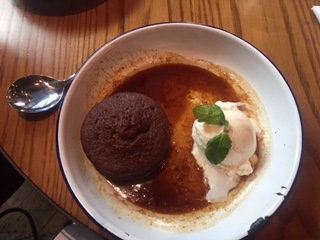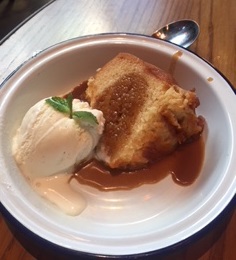 The chefs at Turtle Bay should be proud of themselves – we were served some of the best prepared food we've had for a long time. The portions are sizeable – if you are going for this menu, I'd suggest you don't eat for a good few hours before and don't plan on doing anything energetic afterwards – and £24 for such a large amount of food around Christmas time is pretty good value, when you compare it with other establishments in the City Centre.