7th March 2017
The 4 star Clumber Park Muthu Hotel and Spa is conveniently located just off the A614 with plenty of free parking and, although the road is busy, once inside you are immediately transported to a place of tranquillity.
My 'sparring partner' Julie and I were directed to the Spa, which is at the back of the hotel and felt far away from any hustle and bustle. Once there, we were warmly welcomed by Maria, who showed us the facilities and presented us with an itinerary for the day, as well as keys for our lockers.
Spa visitors are given fluffy white robes and towels to use and, suitably dressed, we ventured into the pool area and claimed a couple of loungers. The Spa has a reasonably sized pool with integrated bubble pool, a sauna and steam room, as well as a delightful outdoor seating area with sunken hot-tub. The atmosphere is calm and peaceful, helped by the view of trees and fields and the odd squirrel scampering about.
On the way to the pool we had a quick look at the gym, which is light and modern and seemed to include a lot of high-tech equipment. Not being big fans of exercise, we decided to leave this for another visit but it's good to know that it's there if you're popping in for the day and fancy offsetting the relaxation with some physical exertions.
Time for treatments. I had chosen the New Leaf Skin Booster Facial, which was included within the Bubble and Treat package. In addition, we were offered the chance to book other treatments at a discounted price so, out of pure curiosity, I opted for the Hopi Ear Candles.
The treatment rooms are relaxation personified. The warm but calm décor, soothing music and muted lighting all combine to create an atmosphere of pure indulgence. My therapist, Leanne, gave a detailed explanation of what I could expect from the Hopi Ear Candle treatment, as well as the possible benefits.
Bizarre, is the first word which springs to mind – the long, thin beeswax candles were lit, then inserted into first one ear and then the other, creating a vacuum effect. The crackling which emitted from them for 10 minutes after they were lit was not exactly relaxing but certainly interesting and I couldn't wait to see the results and how much ear wax had been drawn out of each year (sorry folks!). It turned out that this was 'quite a lot', so I am fully expecting my hearing to be massively improved and the circulation around my ears, head and sinuses to be stimulated.
My second treatment was the Skin Booster Facial. Now this is what spa days are all about for me – rest and recuperation. The facial is luxurious and promises to leave you with a smooth, glowing complexion in 25 minutes. I certainly felt invigorated after being pampered with a number of cleansing, toning and moisturising products. Definitely recommended.
Julie had chosen the Lime and Lemongrass Scrub for her main treatment, which she declared was fabulous and, as well as being incredibly relaxing, made her skin feel like silk. In addition, she chose the relaxing back, shoulder and neck massage which did exactly what it promised.
After some more pool time, we ventured into the dining area for our Afternoon Tea. Beautifully served, with a generous selection of very fresh sandwiches, scones with jam and clotted cream, cakes and tarts, this Afternoon Tea included the bonus of a glass of prosecco, as well as tea or coffee. After consuming nearly the whole assortment of goodies, a rest was definitely needed. Luckily, right next to the dining area is a relaxation zone, with comfortable sofas, cushions, throws and magazines. Here, you can have a doze or just chill out and watch the world go by and we did … it was the perfect way to end our spa day.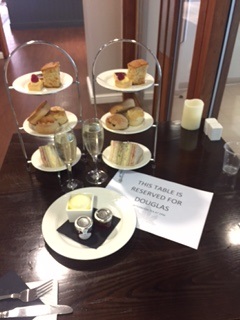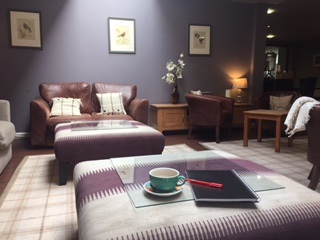 The Bubble and Treat Spa Day costs £125 for 2 people and includes the afternoon tea, with a glass of prosecco, use of the spa facilities and gym, towels and robes and the choice of one 25 minute treatment.