21st January 2017
As soon as you walk through the front doors of Revolucion de Cuba in Nottingham, you are hit with a warm, welcoming feeling. This lively bar/restaurant opened on Market Street a year ago and offers authentic Cuban food and drink, along with live music and salsa dancing, right in the heart of Nottingham City Centre.
I've experienced the music and slightly frenetic atmosphere of Revoluction de Cuba on many occasions during the evening and would always recommend it as somewhere to visit on a 'night out'. However, being a parent with pre-teen kids, I wanted to check out its versatility and see whether this is a good venue for families in the daytime.
We were immediately welcomed by a very friendly member of staff, who showed us to a nice, large table by the window. Settling into the comfortable padded benches, with the added bonus of cushions, I immediately felt relaxed and ready to while a few hours away over lunch. Our drinks orders were taken efficiently and a jug of iced water with lemon and lime was provided. The children absolutely love the pineapple glasses their drinks were served in and were slightly disappointed that they couldn't take them home!!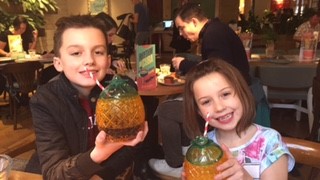 Perusing the Cantina menu, we could see that there was a whole host of choices, designed to suit those either looking for a light lunch or a full-on 'Mr Creosote' experience. We opted for the Tapas, which at £14 for 3 dishes seemed like good value and would give us the opportunity to try a few different dishes.
The kids had their own menu costing £5.95 and included a main, a side and a dessert, as well as a few puzzles and things to colour in (crayons were also provided). Jake (aged 11) chose the chicken goujons, served with skinny fries and Evie (aged 8) went for the vegetable quesadilla, served with cumber and carrot sticks.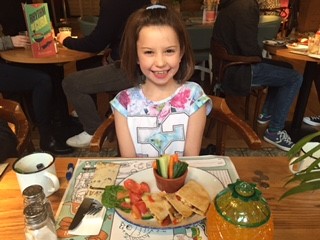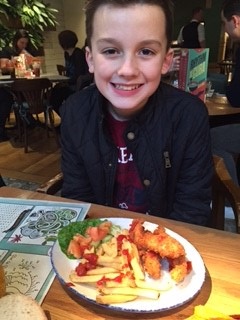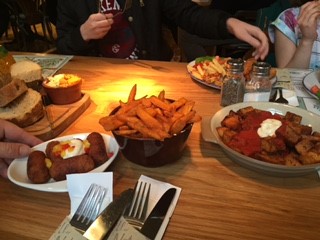 The food was served within a perfectly reasonable timeframe and we immediately saw why they recommend that 3 tapas is plenty per person. We chose the Iberico Ham Croquettes, Chicken Quesadilla, Roasted Chorizo, Mojito Battered Prawns, Patatas Brava and Cajun Creamed Mushrooms, along with a selection of breads. The portions are generous and the food, quite frankly, is absolutely superb. Special mention has to be made of staff favourite, the Cajun Creamed Mushrooms, which were, in a word, sublime and served exactly as described. Most of the food has a little kick to it but the spices meld perfectly and nothing we tried was overpowering.
The kids' sent back clean plates and eagerly dipped into the Tapas, as our blatant inability to finish this delicious food was a little embarrassing!
If you can make room for dessert and you really should try, your next problem is choosing between Columbian Chocolate Brownie, Churro Cheesecake or Molton Chilli Chocolate. After some discussion, we plumped for the Churro Cheesecake (costing £4), washed down with a nice cup of coffee. The kids' choice was slightly easier and both went for the churros rather than the vanilla ice cream this time.
The churro cheesecake was a work of art on a plate. This super sweet concoction of churro sticks, stuffed full of vanilla cheesecake and topped with strawberries was the only way to finish off such a taste-laden meal but I'm glad we shared! The coffee was served with a small piece of chocolate brownie, making it the perfect solution if you can't manage a whole pud but fancy something sweet. A lovely touch – I only wish that more restaurants could do this.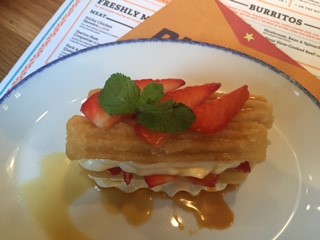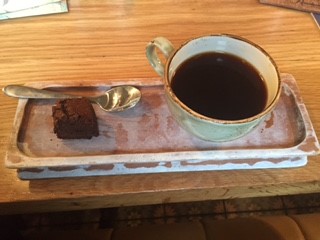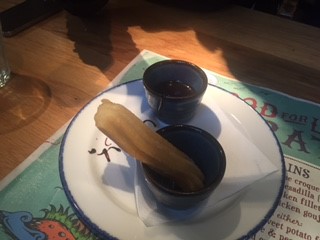 Revoluction de Cuba has, in my opinion, got the ambience spot on. The lighting is pitched at just the right level – enough so that you can actually read the menu but not glaring or harsh. This also applies to the background music – you can hear it, you can even chair salsa along to it if you desire but it's not blasting out and preventing you from hearing what the person next to you is saying.
I have to say that I love this place. From the chilled out, laid-back vibe during the day, making it ideal for lunch out with the family, through to the upbeat intensity in the evening for the grown-ups, you can easily (and happily) lose hours here! It's comfortable and friendly and the food is excellent, with the added bonus of being good value for money too, especially with 241 Tapas on a Sunday.