9th May 2019


When it comes to spa days, if I'm totally honest, I'm a bit meh. Relaxing and wearing a swimming cossie are not my favourite things to do and I'd much prefer to be eating and drinking on a sunny City Break than pretending to be healthy.
So, to entice me, a spa needs to be three things: friendly, spotless and offering a touch of glamour.
When it comes to spa days, if I'm totally honest, I'm a bit meh. Relaxing and wearing a swimming cossie are not my favourite things to do and I'd much prefer to be eating and drinking on a sunny City Break than pretending to be healthy. So, to entice me, a spa needs to be three things: friendly, spotless and offering a touch of glamour. I've visited a few spots over the years and, sadly, some of them have not met my expectations, so I've been looking for somewhere to really recommend in Nottinghamshire for a while. I'd heard very good things about Ye Olde Bell Spa in Retford so, when I was invited to try it out and stay overnight in the hotel, I jumped at the chance to try somewhere new. The drive from Sherwood took us about 45 minutes and we arrived to find a free on-site carpark with plenty of spaces.

This review has a few different parts, so I'm going to break them down and apologise that it's a bit lengthy.

Spa

The 2 year old Spa is housed in a separate building to the hotel and is contemporary, with big glass doors welcoming you into an open plan reception area. First check – staff: big tick here for Clare, who immediately put us at ease, sat us down, outlined our plans for the day and explained our lunchtime options. After a glass of iced water, we were taken to the spotless changing rooms, where we selected a locker and changed into our comfy flip flops and dressing gowns – no need to bring your own spa paraphenalia – it's all provided here (even a little bag for your jewellery). With hairdryers, face cleanser and body lotion, it seems that pretty much anything you might need has been thought of. I also get the feeling that if you've forgotten anything, they would move Heaven and Earth to get it for you. There's even a Spa Butler who hands out fresh fruit for goodness sake!

Our first treatment was the rather bizarre Sabbia Med. This 30 minute experience replicates sunrise to sunset, as you relax on a beach, complete with deckchairs, sand and a mural of somewhere exotic on the wall. Low levels of UV are emitted to release Vitamin D, whilst specialised lamps are used to alleviate SAD. It's so nice to go somewhere and try out something totally different and slightly nuts and this is great if you're in need some beach time.

Suitably relaxed, we set out to explore the rest of the Spa. The beauty of an overnight stay means that we didn't feel at all rushed and, with so many treatment rooms to explore, this was a godsend. The Spa itself is spacious and the indoor and outdoor spaces blend perfectly, with the use of an automatic sliding door that cuts the pool in half. There are 10 thermal experiences, ranging from the more traditional Alpine Sauna and Steam Bath, through to the Stonebath, with its incredible heat contraption and the Snow Storm Walk – if you dare! You can get your fitness on in the gym if you so desire. However, there was so much else to do, our trainers stayed in our bag this time. The outdoor area is decked and features a wicker igloo bed and lots of wooden benches covered in faux fur rugs and cushions – giving the impression of a Scandinavian retreat. There's also an outdoor vitality pool, with recliners, water massage jets and a water curtain and heated loungers so you can hang out, even if the weather is cool.

The service at the Spa was without fault. There's no shortage of staff asking if you'd like a drink – and who can say no to a glass of wine after the most fantastic half-hour facial? There are relaxation rooms on the first floor, where you can chill out and just soak in the calm atmosphere. The relaxation rooms even have little balconies with tables and chairs – perfect for sunny days.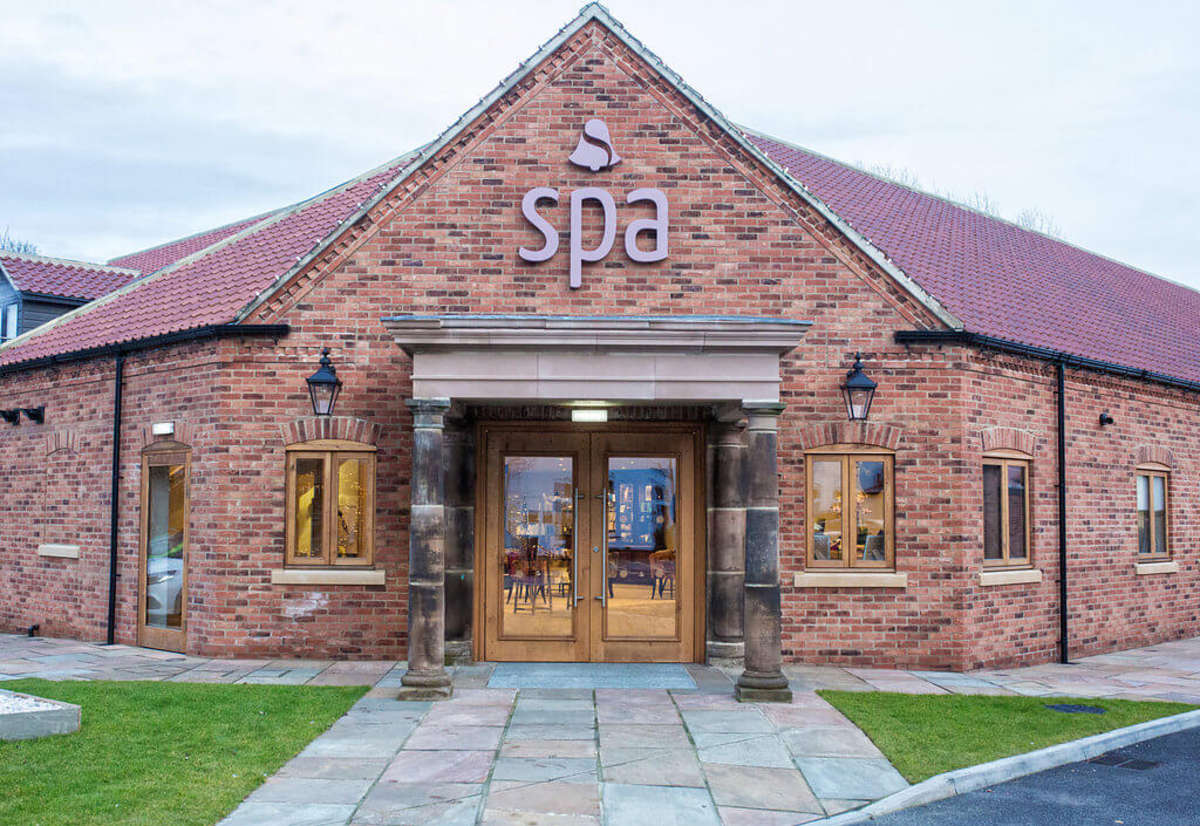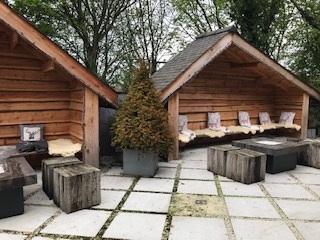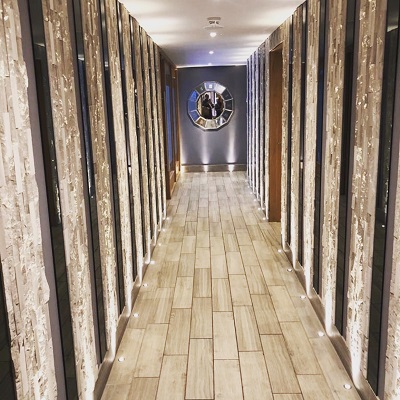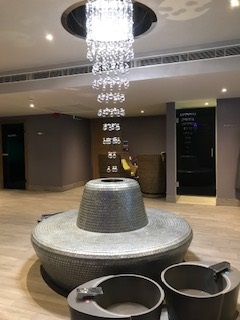 Lunch

Our two-course lunch was served in the spa restaurant and the menu offers a nice selection, including vegetarian. As we were staying for dinner, we decided to go for the healthy salad option for lunch, which arrived with a delicious piece of salmon over mixed salad and feta cheese. It tasted as good as it looked. Dessert was strawberry jelly desert and it came with a special message on my plate for my birthday, which was a lovely thought. Everything we were given was aesthetically pleasing - there's certainly a lot of attention to detail here and presentation scores highly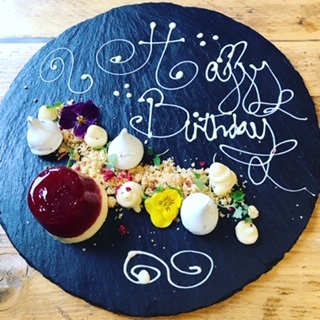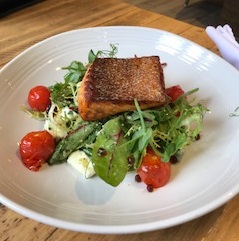 Hotel and Restaurant

We stayed in the Spa until it closed at 5.30pm (unheard of for me, as I'm usually bored after a couple of hours) and then headed over to Ye Olde Bell Hotel. The 59 bedroom hotel is totally different to the Spa but it makes a great contrast. As traditional as the Spa is contemporary, it oozes olde worlde charm, with nooks and crannies, lots of wood and even a giant gold horse ensconced at the foot of the stairs. There is a wide choice of rooms – you can even opt to stay in one of their two-storey lodges, with their own lounge and kitchen. We had a twin room which, as expected, was spacious and tastefully decorated, with a delightful en-suite bathroom and roll-top bath and a view of the rolling countryside. You have to love a hotel that provides its own bell-shaped shortbread biscuits wtth the tea and coffee provision.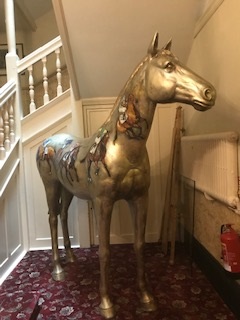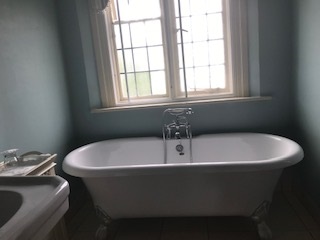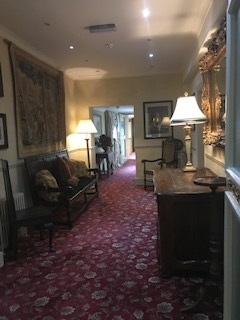 Dinner was served in one of two restaurants in the hotel and, once again, the staff were very efficient, friendly and helpful. The substantial menu offers a wide range of dishes, from burgers to steaks and fish to veggie options. There's also a daily specials board for mains and desserts. We chose the scallops for our starters, which was a good choice, as they were succulent and bursting with flavour. We followed this up with fillet steak served with mushroom, tomatoes and some extremely tasty Maris Piper chips and supreme of chicken with glazed potatoes and borderlaise sauce. Both dishes were as good as we had come to expect and the presentation and standard was very high. The restaurant itself is traditionaly decorated and fits in well with the charm of the building. We were made to feel very comfortable and the team looking after us were attentive and, although busy, were happy to have a chat and ensure that we were satisfied with the food and service.

After so much food, we unfortunately could not fit anything else in, so ditched the idea of a dessert and an after-dinner walk and retired to a very comfortable night's sleep. The hotel is delightfully creaky and has a fabulous old-fashioned feel, with touches of modernity and some crazy touches.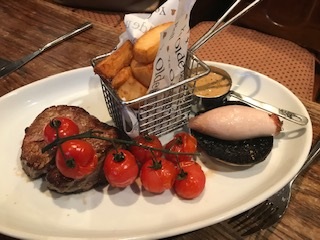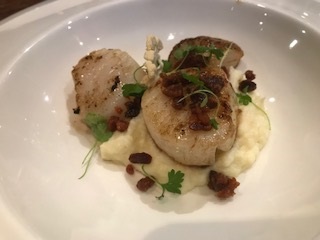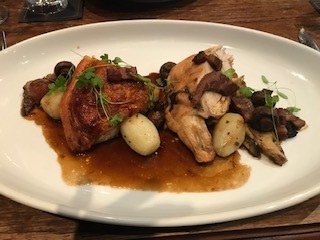 We enjoyed breakfast in the delightfully eclectic 1560 Restaurant – where else would you see a fluorescent blue bar and toy bears standing proud amongst the wooden panelled walls and crystal chandeliers? Breakfast was excellent, with a wide choice of continental items on the bar that you could help yourself to, great coffee and cooked items. I went for the full English and plenty of toast which, once again, was served by cheerful and friendly staff and proved an excellent choice.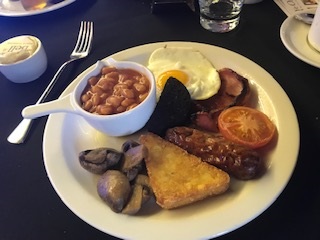 My overall impression of Ye Old Bell Spa and Hotel? Excellent. This has to be up there with the Gold Standard of Spas (if there is such a thing). I'm not a picky person but you can usually find some niggle when you're doing a review. Just some small thing that wasn't quite up to scratch. Not here. I can confidently and wholeheartedly recommend Ye Old Bell Spa and Hotel and state that it is the best spa experience I have had. If you're looking for a Spa or Hotel or Restaurant in this area, then please consider this one – you won't regret it. They do a wide variety of packages and, for what we received, I'd say that they are good value and worth every penny. Pop over to their website for a full list of treatments and offers here.

Wonderful. Five Stars. Thanks to everyone who helped to make our stay so memorable.

Ye Old Bell Spa and Hotel, Barnby Moor, Retford DN22 8QS
Tel: 01777 705121
www. yeoldebell-hotel.co.uk