3rd June 2018
From the ashes of the Wilford Green Pub and Kitchen, a brand new Gastropub has emerged in Wilford, with a complete refurbishment and change of name.

The Tailors Arms is run by the owners of Cuzina in West Bridgford and is now open for business, offering British Food, in stylish but comfortable surroundings.

We popped in on a Sunday lunchtime to try out the roast dinners and to see if the food lives up to expectations. As a working mum with 2 children, I'm often looking for somewhere we can sneak off to eat at the weekend and the hunt for that perfect Sunday dinner, unfortunately, is still on … or is it?
First point to note – there is loads of free parking on-site. Definitely a bonus in my book, especially with the escalating cost of parking in Nottingham these days. As well as a restaurant, the Tailors Arms has a nice outdoor seating area, which was quickly filling up on this sunny Sunday lunchtime.
You can often tell the quality of a place by the welcome you receive on arrival. It's something that I'm quite fussy about – if you don't seem pleased or bothered to see your customers, the service (and maybe even the food) may not be up to scratch either. Fortunately, the Team at the Tailors Arms obviously sees the importance of making their guests feel comfortable and were both efficient and friendly throughout our visit.
After being seated in the restaurant and quickly served with drinks, we perused the menu which, although offered a good selection, was not overly long and irritatingly overwhelming. We started with marinated mixed olives and a selection of baked bread, which came in decent sized portions and were tasty and quite obviously freshly prepared.
Today, the Tailors Arms was offering a choice of 5 starters, which included fishcakes, asparagus tart and breaded Brie. We chose the chicken liver parfait, which was served with toasted brioche and blackberry jam and the pan fried scallops, with crispy pancetta and black pudding. Both dishes arrived beautifully presented and the parfait was delicious – smooth, creamy and perfectly paired with the jam. The scallops were extremely enjoyable and served with a mustard sauce and onion.
There are four choices of meat available for main course, as well as the vegetarian option of Mushroom Wellington, all served with Yorkshire pudding, roast potatoes, seasonal vegetables and gravy – which is delivered to the table in a jug. You can also pay extra for cauliflower cheese and a mashed potato. For those not in a roast mood, fish and chips are on offer, as well as meat and halloumi burgers.
We'd come for the Sunday Roast though, so us adults went for the Roast Fore Rib of Tuxford Beet and the Roast Leg of Lamb. The kids have their own 'Clever Little Tailors' menu, which costs £6.95 for a smaller version of the adult menu and was certainly substantial enough for our 9 and 12 year olds. Evie chose the pork belly and Jake went for the beef.
You can tell straightaway that the restaurant uses high quality ingredients. The meat is locally sourced and everything is fresh and carefully presented – nothing is slopped on the plate in this establishment. The red cabbage was something to behold, the Yorkshire puddings were huge and the meat was perfectly cooked and sliced. They serve the gravy separately, which suits us all and means that you can get a good look at what you're eating, before it's covered.
The children finished off their meal with ice cream but, although the sticky toffee pudding was very tempting, us adults had to admit defeat.
Sunday lunch is served between 12 noon and 5.00 pm and, as well as highly recommending the Tailors Arms, we would also recommend that you call to book as, once the word gets out, this place is sure to be rammed!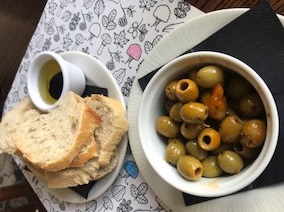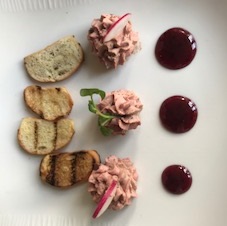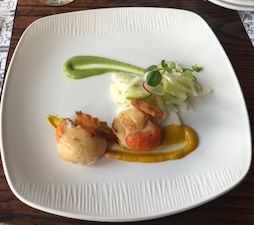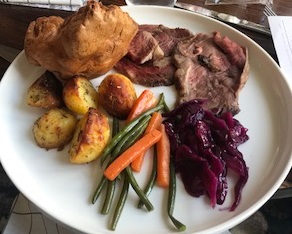 For more information about the Tailors Arms, the menus and to book, please click here.