11th September 2018

Popping down to Turtle Bay in Nottingham's Cornerhouse on a damp, drizzly day is always a treat. No matter how grey the day is outside, the sun is always shining in Turtle Bay and I totally love that feeling of warmth the restaurant exudes.
The team at Turtle Bay has recently launched a new menu, with lots of new dishes and we were invited down to give it a try.

We decided to start our lunchtime treat with a cocktail from the substantial drinks menu. Zoe, our rather lovely server, recommended the Tingaling – an absolutely storming mix of gin, prosecco, elderflower and grapefruit crush (it's vegan too!) and well worth a visit to Turtle Bay purely for this. Wow. (Check out their website for the cocktail happy hours.)

Tastebuds still tingling, we dived into the food menu. We were going for 3 courses today and, based on previous visits and the humungous portion sizes, decided not to go overboard with the starters, The garlic and chilli pit prawns (whole shell-on prawns, herb and chilli garlilc butter and roti flatbread) are always a good bet, along with the garlic flatbread and, once again proved that, as long as your lunch date is eating the same, you can never have too much garlic. Delicious.

For our mains, we went for 2 of the new menu items – Hallo Halloumi (£6.20) and Curry Salmon (£11.50). The vegetarian Halloumi burger comes in a toasted bun and serves up a good portion of grilled halloumi, a portobello mushroom, lettuce and tomato. There was also some kind of green sauce that I didn't recognise but it all worked well together.

The Curry Salmon was named 'one of the best things I have ever eaten' by my lunch date with a whole piece of salmon in a light coconut sauce, garlic, ginger, scotch bonnet, steamed rice and roti flatbread. Served in one of Turtle Bay's signature utility dishes, this substantially sized dish has a spicy kick but is definitely not overpowering and was beautifully cooked.

With eyes bigger than our bellies, we also ordered sides of Cheesy Jerk Fries (£2.90) – sweet potato fries with a jerk coating and smothered in cheese and Crumbed Halloumi (£2.90), both of which would have filled me up on their own and were as tasty as everything else we'd eaten today.

To finish, we were presented with 3 desserts to try (all at £5.30) – the Grilled Fresh Pineapple was served with Rum Caramel and Coconut Ice Cream and was the ideal blend of sweet and tart flavours; the Banana and Toffee Cheesecake was far too moreish and absolutely packed with flavour and creaminess. Finally, the Salted Caramel Brownie, which was served warm with chocolate ice-cream, was rich, sticky and not to be tried unless you still have enough room left to appreciate this chocolatey delight.

Do we recommend Turtle Bay Nottingham? Totally and completely. It's not somewhere that we usually think about visiting when we go out for a meal but, every time we go, we remember how fantastic the food is (we actually think it has got better), how nice the staff are and what a great atmosphere there is in the restaurant.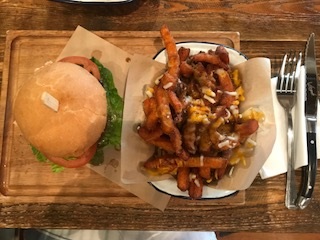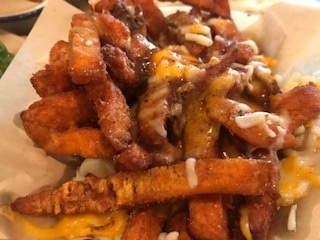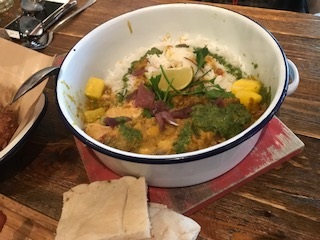 If you'd like to know, here's a link to the Turtle Bay menu.