22nd June 2018

The Village Cafe and Bistro is a relatively small (but by no means tiny) establishment, run by husband and wife team Alex and Cassie Chiltern in Keyworth.

The overall feeling of the Cafe at lunchtime is comfortable and friendly and, due to a lack of any clutter, is modern and spacious. The day was warm, so it was nice to escape to the coolness of the cafe. After being greeted by Claire, I was offered a table of my choice and quickly ordered a glass of Belvoir Raspberry Lemonade, which was absolutely delicious - with just the right amount of tartness. One of the first things I noticed was how clean and tidy the Cafe was, which is a 'must have' for me.

Breakfast is served until 2.00 pm and the Cafe offers lots of choices, including Full English, Eggs Benedict and Breakfast Cobs. Although breakfast (and Eggs Benedict) was tempting, I decided to eat off the lunch menu and chose an omelette with mushroom and cheese, costing £5.75. The service was relaxed but efficient and my omelette arrived quickly - a delicious, fluffy production, served wtih a healthy portion of salad. I happen to know that owner and Chef Alex has a massive amount of culinery experience, so I'm guessing that ordering an omelette wasn't going to stretch his skills unduly. However, the smells eminating from the kitchen showed that Alex is certainly capable of turning his hand to a whole range of foodie delights.

The omelette was substantial enough to fill me up but not too big to cause a Mr Creosote moment. A display of homemade cakes on the counter was tantilisingly tempting but the thought that summer holidays are just around the corner persuaded me to refrain ... this time ... and I made do with a cup of 'proper' coffee.

There was a steady stream of customers during my time at the Cafe and all of them looked totally happy and satisfied with their fare. Quite rightly so. The food here is good value for the excellent quality offered and the Village Cafe and Bistro is certainly going on my list of Nottingham 'gems'. Alex has been around and, although he doesn't shout about it (and I think he should), he has worked for the likes of Marco Pierre White and Gary Rhodes, as well as doing a stint at The Ritz. I firmly believe that Keyworth is lucky to have a Chef with his experience and talent and I look forward to returning to one of their monthly evening events.

The Village Cafe and Bistro offers a good selection of drinks (alcoholic and non), breakfast, lunch and - once a month - dinner.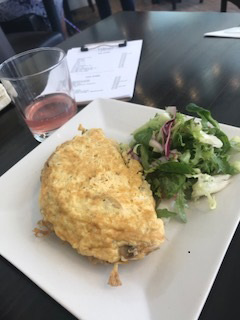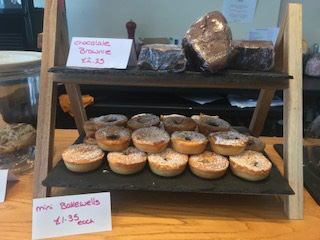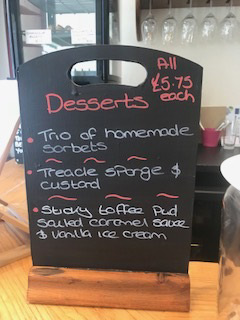 If you'd like to find out more about the Cafe and have a look at their menus and events, please visit their website at http://www.thevillagecafeandbistro.co.uk/